Gregory A. Masters, MD, FACP receives 2021 Laureate Award
The Delaware Chapter presented the 2021 Laureate Award to Dr. Gregory Masters. The Laureate Award honors Fellows and Masters of the College who have demonstrated a commitment to excellence in medical care, education, research, and service to the community. It is the highest award given by individual ACP chapters.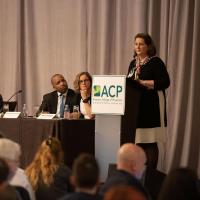 Call for Resolutions
Are you concerned about a practice or clinical issue or have an idea you'd like to suggest? If so, you might consider submitting a resolution to your Governor or chapter council. If effecting change interests you, the deadline for submitting new resolutions to be heard at the Spring 2022 Board of Governors Meeting is October 4, 2021.