You are here
DynaMed Plus: A Benefit for ACP Members

ACP and EBSCO Health are collaborating to provide ACP members with free access to the most current, evidence-based clinical decision support tool, DynaMed Plus®, as a benefit of ACP membership. ACP members have complimentary access to DynaMed Plus through December 31, 2018.
Earn CME for DynaMed Plus Searches
Clinicians can earn CME every time they use DynaMed Plus to answer a clinical question. Simply create a DynaMed Plus personal account, and the system tracks CME as it is accrued. You can redeem CME at any time, and certificates are stored for easy access. Learn more.
Need to Re-authorize?
ACP members must re-authorize with DynaMed Plus once per year. Re-authorize now to continue to get free access through December 31, 2018.
IMPORTANT: You do NOT need to create a new account in DynaMed Plus. After clicking RE-AUTHORIZE below and ensuring that you're logged into ACP, simply click the 'Sign in' link under 'Already have an Account?' on the resulting DynaMed Plus screen.
RE-AUTHORIZE
Already authorized?
SIGN IN*
*Always log in with your DynaMed Plus username and password.
---
Why DynaMed Plus?
Updated daily and analyzed systematically through the lens of an expert editorial team, DynaMed Plus provides relevant information in an easy to digest format for fast implementation at the point-of-care. Beginning in August 2015, ACP's staff physician Deputy Editor for Internal Medicine has worked with the DynaMed Plus editorial team specifically on internal medicine content. Topics that have been reviewed by ACP can be found throughout DynaMed Plus and are identified by the ACP imprimatur. In addition, three of ACP's member and staff leadership have joined the Executive Leadership Board to steer DynaMed Plus toward continued success in supplying evidence-based medicine to the health care community.
As a result of this partnership, ACP members receive free access to DynaMed Plus through December 31, 2018. After this, members will be eligible for a deeply discounted annual subscription.
The Next-Generation Clinical Decision Support Resource
DynaMed Plus has been redesigned from the ground up for busy clinicians, focused on providing a comprehensive clinical decision resource and optimized to deliver the fastest time to answer possible. Content is written by a world-class team of physicians who synthesize the evidence and provide objective analysis. Daily updates ensure you are always getting the most current information available.
Key Features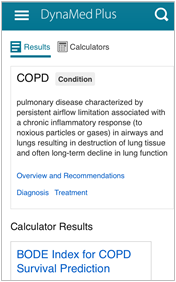 Precise Search Results mean clinicians get relevant search results every time. The redesigned search delivers a high level summary of available clinical information enabling you to quickly access your area of interest. An Image and Calculator filter is also available to further customize the search results.
Overviews and Recommendations provide clinicians with concise, accurate summaries for the common conditions as well as evidence-based recommendations for patient care.
Graphics and Images include over 4,000 figures, algorithms and images, with more than 1,000 images from ACP, that provide critical tools at the point of care. Content includes:
Tables
Clinical photos
Radiological imaging
Algorithms
Illustrations
Microscopic images
Expert Reviewers are an integral component of the DynaMed Plus editorial process. Subject-specific experts review topics using the DynaMed Plus proprietary evidence-based methodology and quality assurance processes.
Comprehensive Specialty Content includes thousands of topics covering emergency medicine, cardiology, oncology, infectious diseases, pediatrics, obstetrics and gynecology and much more.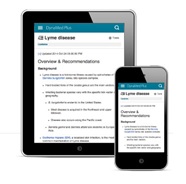 Mobile Optimized web design displays the content in a user-friendly format from a PC, smartphone, or tablet.
Free Mobile App provides ability to access information offline, write and save notes, bookmark favorites, and email topics (iOS and Android available).
Micromedex® Clinical Knowledge Suite includes drug content such as drug dosing, interactions, off-label uses, and lab recommendations (select products only).
CME is earned for all of your point-of-care searches and can be redeemed at any time. Certificates are stored for easy access.
For further assistance, please contact us by email at ACP-DMP@acponline.org.