You are here
News & Meetings
Delaware Chapter - Meet Our Governor, Tabassum Salam, MD, FACP
---
Meetings
Thank you for attending the Delaware Chapter Meeting
Claim CME
Claim MOC
*CME and MOC will be available at noon on the last day of the meeting.
---
Thank you for attending the 2017 DE Chapter meeting!
Claim CME Only
---
E-mail Ann Tennett for more information.
---
News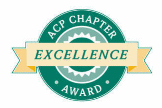 Delaware Chapter Receives 2017 Chapter Excellence Award
The award recognizes chapters which successfully meet the standards for managing a chapter. In order to achieve the Chapter Excellence Award, chapters must meet all basic criteria and ten optional criteria. Criteria include such activities as formulating an effective Governor's Council and committees, communicating frequently with membership, providing educational opportunities, recruiting and advancing members and celebrating membership through local awards.
---

Delaware Wins a 25th Anniversary John Tooker Evergreen All-Star Award
To celebrate the 25th anniversary of the John Tooker Evergreen Awards Program, the Evergreen All-Star Awards recognizes the Delaware Chapter program, The Bakshi Fellowship for Global Health Rotations by Resident Members. The program has contributed to the strength and breadth of ACP and its chapters, and demonstrated sustainability through successive leadership terms.
---
Governor's Newsletters
February 2016 - January 2015 - August 2014
Governor's Newsletters Archive
Chapter Communications
11-17-17: ACP DE Chapter -- Adult Immunization Information Available
8-7-17: DE Chapter -- Feedback Requested for Proposed Resolutions
5-9-17: Morning Report in the Dark - May 25th
5-27-16: Proposed Regulations for Opiod Prescriptions