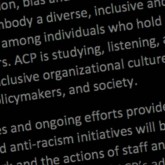 ACP Makes Organizational Commitment to be Anti-Racist, Diverse, Equitable, and Inclusive
ACP strives to embody a diverse, inclusive and equitable organization that facilitates effective and respectful interaction among individuals who hold a broad range of views, and respect, empathy and understanding of others.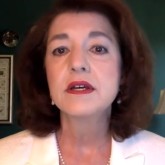 In Memoriam of Physicians Lost During COVID-19
View a message from ACP President Jacqueline Fincher, MD, MACP, and submit information about ACP members and colleagues to recognize those we've lost due to the pandemic.
Who We Are
ACP is a national organization of internists, the largest medical-specialty organization, and second-largest physician group in the United States. Our 161,000 members include internists, internal medicine subspecialists, medical students, residents, and fellows.
About Internal Medicine
Internal medicine physicians are specialists who apply scientific knowledge and clinical expertise to the diagnosis, treatment, and compassionate care of adults across the spectrum from health to complex illness.
---
ACP aims to connect, support, and inspire internists worldwide by meeting their unique needs through educational engagements, and rich and mutually beneficial collaborations with other organizations across the globe on a variety of programs.
---
ACP is governed by an elected Board of Regents, which manages business and policy issues. The Board is advised by a network of ACP committees and by the ACP Board of Governors.
ACP recognizes excellence and distinguished contributions to internal medicine. The College offers 23 national awards and a number of Masterships each year.
---
A set of resources for members interested in exploring how ACP is committed to supporting efforts that improve the practice of internal medicine.
Let us answer your questions. Contact our helpful Member and Product Support team today and let us help you in any way that we can.