You are here
Access to Care
Access to Care
Background
In order to benefit from health care services, people need to be able to access them. Affordability and lack of insurance can be major barriers to accessing needed care in the United States. The Affordable Care Act has made major progress in reducing the number of people who are uninsured, but major challenges remain to providing access to care.
Where We Stand
The American College of Physicians has a long-standing goal of increasing access to care in the United States. We support the goals of the Affordable Care Act (ACA), and advocated for its passage. We continue to advocate for improvements to the law and against attempts to weaken the coverage and protections that the ACA provides.
Advocacy Spotlight
New Opportunity for ACA Enrollment
A special enrollment period for Affordable Care Act insurance plans is now open. Read more about how your patients can access these plans at a lowered cost.
---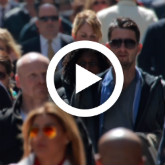 ACP Offers Recommendations to Improve the Affordable Care Act
ACP offers recommendations to improve the Affordable Care Act to lay the foundation for health care reforms that will lead to universal coverage for all Americans in a new policy paper published in Annals of Internal Medicine. Watch Video
---
Latest Advocacy Efforts
---
Search the ACP Policy Library
Access everything ACP has said related to access to care issues by searching all policy statements, copies of testimony, and letters to government and non-government officials.