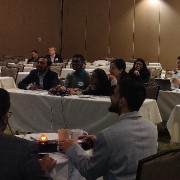 2023 Doctor's Dilemma Recap
This year's Doctor's Dilemma session held during the 2023 annual Chapter meeting was a big success, with 11 teams participating. Take a few moments to read about it and enjoy some photos of this session.
Mary Bieter All Star Awards Voting Open
For the first time in 30 years, ACP wants to hear from you on who should win the reputable All-Star Award. Want to know more about what innovative and sustainable programs our chapter has initiated? Curious about the programs developed by other ACP Chapters? View the All-Star nominations today at acponline.org/allstars and choose your 3 favorite posters! Your vote counts.