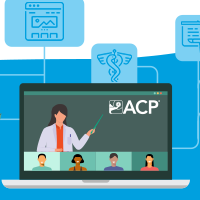 ACP offers educational webinars for ACP members on a variety of topics relevant to internal medicine.
These webinars provide an opportunity to learn, pose questions, and share ideas with others. Register for an upcoming live webinar or choose from a variety of recorded webinars.
Upcoming Webinars
What's Next: Telehealth in a Post-Pandemic World
Thursday, January 26, 2023, at 8:00 p.m. ET
As emergency telehealth authorization waivers and flexibilities expire, the future of telehealth post-pandemic is highly uncertain. On January 26, 2023, at 8:00 PM ET, Jeannine Engel, MD, MACP, will provide a brief overview of coming changes and what they may mean to your practice.
There will be a live Q&A session following the presentation. Please submit questions in advance when registering.
Webinars are free for members to attend unless otherwise stated. Most webinars offer attendees the opportunity to ask questions following the presentations. Please note that most webinars are recorded and a link to the recording will be posted in the webinar library for later viewing.
Webinar Library
Recently Added
Clinical Education
Coding and Payment
COVID-19
Financial Topics
Personal and Professional Development
Telemedicine
Women in Medicine