You are here
Webinars
Webinars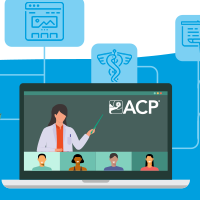 ACP offers educational webinars for ACP members on a variety of topics relevant to internal medicine.
These webinars provide an opportunity to learn, pose questions, and share ideas with others. Register for an upcoming live webinar or choose from a variety of recorded webinars.
Upcoming Webinars
Disrupting Bullying in Academic Medicine: A Workshop
Tuesday, September 6, 2022 at 3:00 p.m. ET
Maya S. Iyer, MD, MEd, will discuss how individuals and organizations can understand and recognize workforce bullying. Get tools to disrupt this uncivil behavior and participate in breakout sessions led by experts to reinforce concepts learned.

ACP-Annals COVID-19 Forum X: Current Clinical Challenges in COVID-19 Prevention and Management
Wednesday, September 7, 2022 at 3:30 p.m. ET
Our panel of experts will discuss current strategies for preventing and managing SARS-CoV-2 infection.

Acquiring POCUS Equipment: Considerations and Advice
Thursday, October 6, 2022 at 4:00 p.m. ET
This webinar will provide general advice on purchasing ultrasound equipment, detailed information about specific machines, including pocket sized devices and cart-based units, and recommendations on strategies for funding equipment and scaling equipment to meet unique needs.
Webinars are free for members to attend unless otherwise stated. Most webinars offer attendees the opportunity to ask questions following the presentations. Please note that most webinars are recorded and a link to the recording will be posted in the webinar library for later viewing.
Webinar Library
Clinical Education
Coding and Payment
COVID-19
Financial Topics
Personal and Professional Development
Telemedicine
Women in Medicine