You are here
Webinars
Webinars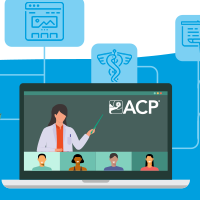 ACP offers educational webinars for ACP members on a variety of topics relevant to internal medicine.
These webinars provide an opportunity to learn, pose questions, and share ideas with others. Register for an upcoming live webinar or choose from a variety of recorded webinars.
Upcoming Webinars
HCC Coding: What Is It and Why Is It important?
Thursday, July 14, 2022 at 8:00 p.m. ET
Lawrence Ward, MD, MPH, FACP will discuss hierarchical condition category (HHC) coding and how to use it to communicate patient complexity. Submit questions during registration.
Webinars are free for members to attend unless otherwise stated. Most webinars offer attendees the opportunity to ask questions following the presentations. Please note that most webinars are recorded and a link to the recording will be posted in the webinar library for later viewing.
Webinar Library
Clinical Education
Coding and Payment
COVID-19
Financial Topics
Personal and Professional Development
Telemedicine
Women in Medicine