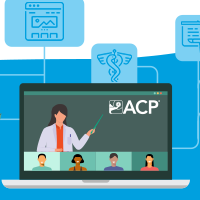 ACP offers educational webinars for ACP members on a variety of topics relevant to internal medicine.
These webinars provide an opportunity to learn, pose questions, and share ideas with others. Register for an upcoming webinar today. Can't make it to the live webinar? Access webinar recordings in the On-Demand Library. 
Upcoming Webinars
Are You Prepared to Avoid Information Blocking Disincentives?
Tuesday, December 5, 2023, from 7:00 p.m. ET
Join us as officials from the Office of National Coordinator for Health IT (ONC) review the proposed rule, "21st Century Cures Act: Establishing Disincentives for Health Care Providers That Have Committed Information Blocking" and its impact on ACP members.
ACP/Annals Forum: Controversies in Colorectal Cancer Screening
Wednesday, December 6, 2023, from 3:30 to 5:00 p.m. ET
ACP recently published an updated, evidence-based guidance statement on screening for colorectal cancer in asymptomatic average-risk adults. The variation between screening recommendations from ACP and those of other organizations creates challenges for clinicians' and patients' decision making about colorectal cancer screening. In this forum, our panel of experts will discuss screening options based on diagnostic test accuracy, effectiveness, and potential harms. They will also address questions submitted before the event.
Webinars are free for members to attend unless otherwise stated. Most webinars offer attendees the opportunity to ask questions following the presentations. Please note that most webinars are recorded and a link to the recording will be posted in the webinar library for later viewing.
Webinar Library
Recently Added
Clinical Education
Coding and Payment
COVID-19
Financial Topics
Personal and Professional Development
Telemedicine
Women in Medicine