You are here
About the Chapter
About the Chapter
Governor

CDR Mark P. Tschanz, DO, FACP
CDR Tschanz serves as the official representative of the College for the U.S. Navy Chapter, providing a link between members at the local level and leadership at the national level. To learn more about CDR Tschanz, read his bio.
Welcome Letter | Past Governors | Governor-elect
---
Awards
CAPT Ryan C. Maves, MD, FACP, FCCP, FIDSA Receives 2020 Laureate Award
CAPT Maves is a staff physician assigned to Naval Medical Center San Diego (NMCSD), where he serves as an attending physician in the Division of Infectious Diseases and on the Critical Care Medicine service. CAPT Maves is board-certified in internal medicine, infectious diseases, and critical care medicine. He holds faculty appointments as an associate professor of medicine at the Uniformed Services University and as a voluntary clinical associate professor of medicine at the University of California, San Diego. He has authored over 70 scientific manuscripts, 60 conference abstracts, and 8 textbook chapters. He lives in Chula Vista with his wife, Robin, and their children Astrid, Robert, and Jonathan.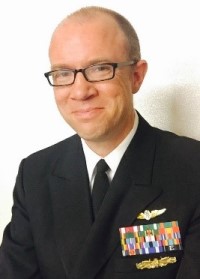 Guenola Hunt, MD, LT MC USN Receives David C. Leach Award from ACGME
In the award citation, the ACGME noted: "Dr. Hunt's vision was to assign each of the four internal medicine teams to one geographic unit. Within this unit, there would be embedded allied health workers including social workers, physical therapists, occupational therapists, and pharmacists, all working as one team to provide the highest quality patient care. Additionally, these teams would build longitudinal relationships with the nursing staff of their respective units, improving trust and communication. Lastly, there would be a daily multidisciplinary huddle that brought all of the aforementioned members of the multidisciplinary team together, improving communication and giving all parties a better understanding of the plan of care for each patient."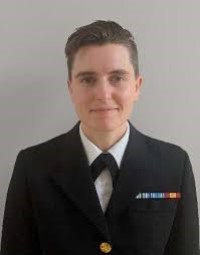 Award Archives
Laureate Award Recipients | Chapter Awardees | Chapter Awards
---