You are here
News & Meetings
News & Meetings
Upcoming Meetings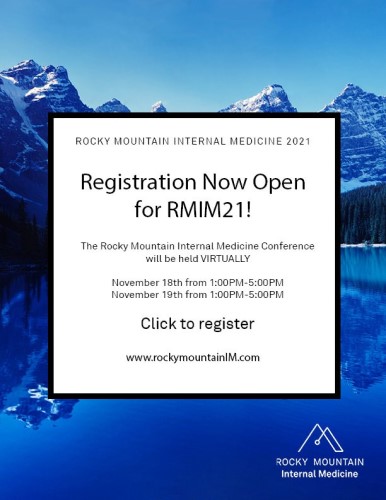 2021 Rocky Mountain Internal Medicine Conference
November 18th and 19th, 2021
1:00 p.m. to 5:00 p.m. MST | Virtual
The Rocky Mountain Internal Medicine Conference is co-developed in collaboration with the American College of Physicians, the Alberta Medical Association, and the universities of British Columbia, Alberta, Calgary, Saskatchewan, and Manitoba.
The goal of the Rocky Mountain Internal Medicine Conference is to uphold high academic standards by focusing on key topics and emerging issues within the practice of internal medicine, presented through workshops, short snappers, and plenary talks that inspire excellence in clinical and academic medicine.
---
Enhance Your Personal Well-being
ACP is committed to providing high quality information, resources, tools, and support to help improve member well-being.
Click here to learn how the ACP is helping.
---
Follow the ACP Canadian Chapters on Twitter! @ACPCanadian
The Ontario Chapter hosted another successful annual meeting November 1-2, 2019 in Toronto.
Thank you to all presenters, meeting participants, and planning committee members.
And thank you also to Gold Sponsors Novartis and Bristol-Myers Squibb/Pfizer.
BaladoCritique - Club de lecture médical
Educational podcasts in French

ACP Member Forums
The ACP Member Forums provide members with an online community to interact with colleagues who have similar interests and career goals.
A host of topics are available: Clinical Problem-Solving, Clinical Research, Hospital Medicine, Medical Students, MKSAP, Obesity Medicine, Perioperative Medicine, Physician Educators, POCUS, Women in Medicine, Work/Life Balance, and many more!
Click here to see the full list and to join the conversation!
---
Advancement in the College
Becoming an FACP ® is a distinction earned from colleagues who recognize your accomplishments and achievements in medicine. Think of deserving Chapter Members for advancement to Fellowship and Mastership and nominate them! There are several pathways to Fellowship and the application process is simple.
Canadian Governors' Newsletters
Alberta
*************************************************
Atlantic Provinces
*************************************************
British Columbia
*************************************************
Manitoba/Saskatchewan
*************************************************
Ontario
*************************************************
Quebec