You are here
Public Policy & Advocacy
Public Policy & Advocacy
Massachusetts Chapter Advocacy Mission
Our mission is to advocate for policy change that improve access, quality and effectiveness of health care for patients in the Commonwealth of Massachusetts. In addition to a passionate advocacy for our patients, we advocate for policies that enhance the practice of medicine for physicians and allow us to provide the highest quality, efficient care to our communities.
The committee has 20-30 members that meet quarterly to discuss policy issues and advocate for them through various efforts including speaking with legislators and providing education to Chapter members, policy makers, and the general public. In between meetings, subcommitees and working groups move forward with advocacy efforts through collaborations with allied community organizations.
Advocacy Subcommittees
Advocacy Day - This subcommittee is responsible for organizing Advocacy Day at the State House, including selecting legislation and speakers. They also organize the meetings between participating members and their state legislators to discuss important legislation.
Advocacy Education - This subcommittee is dedicated to bringing training in various advocacy skills to chapter members. Our goal is for members to feel well-equipped to tackle issues affecting their patients and practice through various forms of advocacy ranging from conversations with legislators, to writing op-eds and coalition-building.
Environmental Justice - This subcommittee is focused on environmental justice and its impact on health within local communities in Massachusetts. They identify educational opportunities for members and work closely with other local environmental groups, acknowledging the connection to the broader environmental movement.
Opioid Use Disorder - This subcommittee is focused on addressing the opioid epidemic by increasing access to care through education and advocacy.
Violence Prevention - This subcommittee is focused on identifying, reducing, and preventing violence in our communities. This group aims to address the increasing public health concern and plans to focus on three main areas: domestic violence, racial violence, and gun safety. They take a proactive role in screening, education, and advocacy; identifying gaps and creating screening tools for physicians to implement in their practice.
2021 HIGHLIGHTS:
-A working group with HPPC has been working closely with Rep. Vargas to create a coalition to eliminate the religious exemption for vaccine uptake.
-Members of our committee testified in Feb. 2021 to support the creation of a health equity task force to ensure that our most vulnerable patients have access to care as well as crucial preventative measures including the Covid-19 Vaccine.
Massachusetts Legislative Contacts
2022 Health Policy Internship Program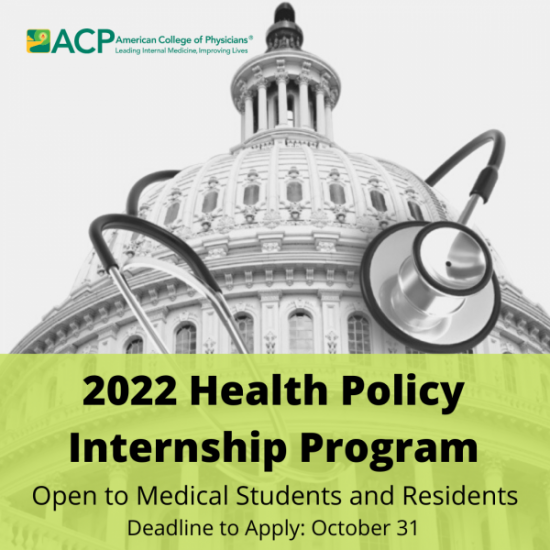 ACP is now accepting applications from medical students and residents for the 2022 Health Policy Internship Program, which will take place May 2 through May 27, 2022. The ACP Health Policy Internship provides a multifaceted opportunity to learn about the legislative process, health policy, and advocacy in organized medicine.
One resident/fellow and one medical student will be selected to work in ACP's Washington, DC office with Governmental Affairs and Public Policy staff. The application closes on October 31, 2021. For more information about the program, please visit Health Policy Internship Program or contact Josh Serchen at jserchen@acponline.org with any questions.
---
Call for Resolutions
Spring 2022 Board of Governors Meeting
Are you concerned about a practice or clinical issue or have an idea you'd like to suggest? If so, you might consider submitting a resolution to your Governor or chapter council.
Initiating a resolution provides ACP members an opportunity to focus attention at the ACP national level on a particular issue or topic that concerns them. Participating in the Board of Governors resolutions process provides the ACP grassroots member a voice and allows you to shape College policy that impacts the practice of internal medicine. When drafting a resolution, don't forget to consider how well it fits within ACP's Mission and Goals. In addition, be sure to use the College's Priority Themes to guide you when proposing a resolution topic.
Not sure how to begin drafting a resolution? Researching the College's position on an issue can give you a start. Visit the ACP Online homepage and click the "Advocacy" link in the right-hand, top margin to access ACP policy positions, read about recent ACP advocacy activities, or search ACP's library of policies and recommendations. You also have access to the Electronic Resolutions System (ERS) where you can search past or proposed resolutions. A copy of the resolutions process is available on the ERS, which furnishes more details on formatting resolutions, as well the process for submission, review, and approval.
Members must submit resolutions to the Governor and/or chapter council. A resolution becomes a resolution of the chapter once the chapter council approves it. If effecting change interests you, the deadline for submitting new resolutions to be heard at the Spring 2022 Board of Governors Meeting is October 4, 2021.
Share your good idea with us. Draft a resolution.
---
ACP Advocacy Resources
Where the College Stands on key health policy issues, news and recent policy changes.
Visit Legislative Action Center for more information about the new Advocates for Internal Medicine Network (AIMn) and the Richard Neubauer Advocate for Internal Medicine Award.