You are here
News & Meetings
---

Become a fan of the ACP Massachusetts Chapter Facebook page!
---
Meetings
ACP Rises in the West: Career Guidance for Early Career Physicians - 5/24/18
6:30-8:30
Pintu's Indian Palace; 25 Park Avenue, West Springfield, MA 01089
Registration and more information
---
Thank you for attending You Can Do It: Buprenorphine Prescribing in Primary Care
Claim CME
Claim MOC - MOC Points must be claimed by December 31, 2018
CME and MOC is available after 9pm on the day of the meeting.
---
Thank you for attending the 2017 Massachusetts Chapter Meeting
2017 Laureate Award Brochure
2017 Chapter Meeting Handouts
---
Diversifying Your Career: Opportunities in Public and Global Health - 4/28/17
---
Thank you for attending the 2016 Massachusetts Chapter Meeting
---
Pain Management/Prescribing Opioids - Free online CME courses
Gun Safety - Online CME course
---
News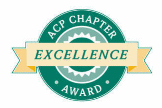 Massachusetts Chapter Receives 2017 Chapter Excellence Award
The award recognizes chapters which successfully meet the standards for managing a chapter. In order to achieve the Chapter Excellence Award, chapters must meet all basic criteria and ten optional criteria. Criteria include such activities as formulating an effective Governor's Council and committees, communicating frequently with membership, providing educational opportunities, recruiting and advancing members and celebrating membership through local awards.
MA ACP in the News
Governor Interviews
Fatima Cody Stanford, MD, MPH
Governor's Newsletters
[December 2017 | August 2017 | December 2016 | July 2016 | December 2015 | July 2015 | December 2014 ]
Governor's Newsletter Archive
MA Council of Early Career Physicians Newsletters
Spring 2017
Fall 2016
Spring 2015
Fall 2014
Chapter Communications
8/31/17: Climate Change and the Growing Risk of Nuclear War: An Agenda for Change
2/8/17: Advocacy Day - March 22, 2017
1-26-17: Adult Immunization Coalition
Chapter Communications' Archive