Updated for 2023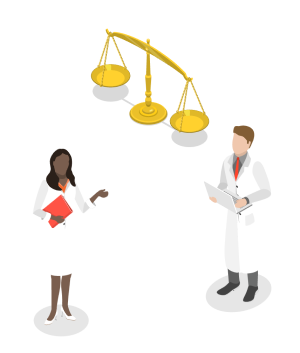 ACP's High Value Care (HVC) curriculum helps train physicians to be good stewards of limited health care resources. Residents can complete self-paced interactive cases on high value care topics prior to group discussions. After each case, resident educators can easily facilitate group sessions by downloading ready-to-use slide decks in 5 different areas of high value care.
The curriculum can be completed in five hours and includes facilitator's notes and a robust collection of online cases and other resources to help faculty and program directors deliver the content to their learners in the most effective way possible.
Access the online cases and download the slides for each high value care topic area below.
Access is free, but an ACP account is required for the cases. Please register for your free account and then log in to before accessing the cases.
1. Eliminating Health Care Waste and Over-Ordering of Tests
2. Costs and Payment Models
3. High Value Diagnostic Testing
4. High Value Hospitalization
5. Overcoming Barriers to High Value Care
HVC Toolbox
Provide feedback on the curriculum or share your quality improvement presentations by contacting Daisy Smith at dsmith@acponline.org.
Lead Curriculum Authors
Donna Williams, MD, Associate Professor, Wake Forest School of Medicine
Amit K. Pahwa, MD, SFHM, Associate Professor of Pediatrics and Medicine, Johns Hopkins University School of Medicine
ACP Staff: Cynthia D. Smith, MD, FACP, Chief Membership and Engagement Officer