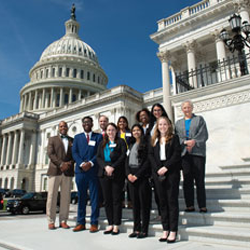 ACP harnesses the power of the collective internal medicine physician voice to influence public policy. Philanthropic funds will enable us to include more physicians in this process and have a greater impact on issues that matter
Expanding Participation in Capitol Hill Leadership Day
Each year several hundred ACP members converge on Capitol Hill to share their personal stories of caring for patients with their members of Congress, through the support and training of ACP. Our collective voice will be stronger with more participation, especially from physicians in training and early career stages. We also seek to expand the internal medicine influence to state legislatures, which requires new infrastructure and tactics.
Preventing Firearms-related Deaths and Injuries
Firearm-related death and injury is a public health crisis in the U.S. ACP has long advocated for a public health approach and common-sense measures that would help to curb this escalating crisis. ACP continues to address firearm injury through public policy and advocacy efforts, publication of related research and other content in Annals of Internal Medicine, events that examine the impact on clinicians and the public, and collaboration with others to enact change.