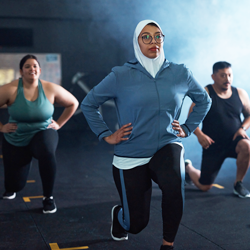 ACP's commitment to health equity includes addressing systemic factors that influence chronic health conditions, particularly those that disproportionately impact underserved populations. One risk factor often presents with and exacerbates such conditions: body weight that meets clinical criteria for obesity.
Recognizing that the predictors of obesity are often wrapped up in healthcare access, weight stigma and culture, and other socioeconomic factors, ACP is designing a broad range of initiatives to reduce the impact of obesity on US populations.
Obesity Management Learning Hub
ACP has developed a variety of resources addressing multiple aspects of patient engagement and care to assure a team-based approach to managing obesity. Resources include interactive learning modules, webinars, and podcasts. ACP is also updating clinical practice guidelines for obesity management, and the educational resources will be updated as needed when the guideline(s) are published.
Community Outreach Grants to ACP chapters
ACP will be launching a grant program to enable ACP chapters to implement outreach projects addressing equity challenges in obesity screening, diagnosis, and management.​ These projects are encouraged to be collaborations with health delivery systems, community-based service organizations, academic institutions, and/or health professional networks, and can leverage the high-quality educational resources already developed by ACP, to help reduce existing educational and training gaps for obesity care. Project goals will be to fill knowledge and skills gaps among medical students, physicians, and other clinical staff; alleviate stigma encountered by people with obesity; and counter misinformation about the causes and treatment of obesity among the public. This program aims to award 10 grants of $20,000 for chapter projects in 2024-25, and grow grant opportunities in future years.
ACP App Library: Mobile Weight Management Applications
ACP recently launched the ACP App Library, designed to identify safe, secure and effective mobile health apps for patients to monitor and manage their health, including weight management. Additional funding will allow us to expand awareness and adoption of apps among physicians and their patients.
Learn More & Explore the ACP App Library