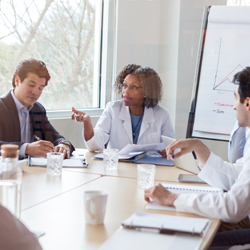 One of ACP's core goals is to foster the career and professional development of internal medicine physicians to maximize their potential at all career stages. ACP has developed several pilot programs anticipating the changing career needs of IM physicians. This proactive approach, with your financial support, allows us to launch programs responsive to the changing healthcare opportunities.
Global Physician Scholar (GPS) Program
ACP's Global Physician Scholar (GPS) Program provides short-term study and mentorship experiences in the United States and Canada for international early/mid career physicians, expanding the potential for more global exchange in medicine. Scholars are hosted for a month by senior faculty in academic medical institutions in the United States and Canada. They also participate in ACP's Internal Medicine Meeting (complimentary registration and expenses included in stipend) to benefit from education courses, professional development, and knowledge sharing. The overall goal of the program is to enable scholars to share perspectives and expand access to knowledge and skills to improve global delivery of care. Four Global Physician Scholars were selected in 2023.
Herbert S. Waxman Chief Resident Teaching Scholarship
This scholarship was established to recognize outstanding Chief Medical Residents and to provide them with an opportunity to assist in teaching popular clinical skills workshops under the guidance and mentorship of expert faculty in the Clinical Skills Center, part of ACP's Internal Medicine Meeting. The Clinical Skills Center provides hands-on, small-group learning opportunities in the areas of communication, physical examination, and hospital and office-based procedural skills. Six Waxman Scholars were selected in 2023.
Learn more about our most recent scholarship recipients
Annals of Internal Medicine Fellowship Program
Annals of Internal Medicine and the American College of Physicians have created an editorial fellowship program to provide early career physicians who are interested in academic medicine an opportunity to gain insight into the editorial and publishing processes at a highly selective, peer-reviewed journal. The program includes training and experience completing peer-reviews, presentations, and content writing. Fellows receive an honorarium of $5000 and travel expenses. This is a comprehensive 12-month program for 4 physicians.