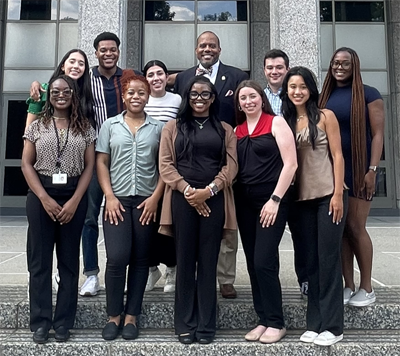 The Ryan Mire, MD Summer Internship Program is named in honor of the American College of Physicians' 2022-2023 President, Dr. Ryan Mire, Dr. Ryan Mire, who served as the organization's fourth Black president. Through his leadership, Dr. Mire exemplifies ACP's dedication to fostering diversity within the field of internal medicine.
Launched in the summer of 2022, the Ryan Mire, MD Summer Internship Program was designed with a dual purpose in mind. First, we aim to diversify the healthcare workforce by opening doors for underrepresented communities. Second, we strive to inspire college students by educating them about the wide array of fulfilling and impactful careers available in healthcare. With four interns in our inaugural cohort, and 10 in our second year in 2023, we're laying the groundwork for a legacy of education, empowerment, and equity.
"[ACP] has designed an experience that allows the interns to see all the working parts…that collectively manifest the influence and impact that ACP has on its members and patients. Although ACP is here to help the student interns grow and develop, we are also learning from them and appreciate the work and perspectives that they bring to this organization." — Ryan Mire, MD, MACP, ACP Immediate Past President and Program Mentor
"At ACP, our summer internship does more than just look to the future—it revitalizes our present. These undergraduates bring fresh perspectives that enrich our daily conversations, challenge our thinking, and spark innovation as we work to influence the next chapter of internal medicine." — Darilyn Moyer, MD, MACP, FRCP, FIDSA, FAMWA, FEFIM, Executive VP and Chief Executive Officer, ACP
Experiential Learning Through Site Visits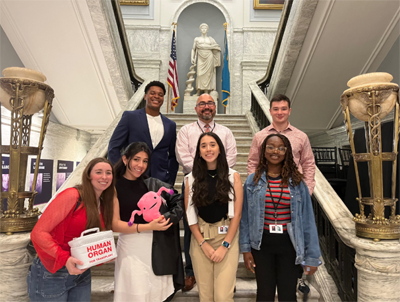 "Partnership with our affiliates and collaborators is an essential component of the program because healthcare is a team sport—we can't do it alone." — Adrienne White-Faines, Chief Strategy Officer, ACP
We believe in learning by doing. That's why we arrange for students to visit leading healthcare institutions and organizations as site tours throughout the summer. Some of our site tours sponsors have included the DC Department of Health, AIDS Healthcare Foundation, ABIM, George Washington School of Medicine, American Cancer Society, and Christiana Care's Innovation Center. These visits aren't just field trips; they are formative experiences that offer a real-world glimpse into the healthcare ecosystem. For many of the interns, the site visits are one of the highlights of the program.
"I really enjoyed the site visits. I feel like they opened my eyes to what is really going on in the healthcare system and I learned about a lot of new things that I was unaware of." — Sheridan Charles, Howard University
Expert Q&A Sessions
We take great pride in organizing Q&A sessions where interns have the unique opportunity to engage directly with esteemed healthcare professionals. These intimate dialogues with thought leaders and Subject Matter Experts offer firsthand insights into the healthcare industry, as well as personal insights into their career journeys. Furthermore, these sessions serve as powerful opportunities to connect with influential figures, opening doors to mentorship, career advancement, and collaborative projects. This mentorship and networking aspect is a cornerstone of our program.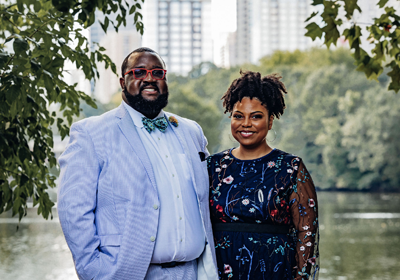 Dr. Stewart Jr., MD, FACP, and Dr. Stacy Arrington Stewart, DO, chatted with our 2023 interns about the ins and outs of being physicians, shedding light on the nuances between MDs and DOs. Their talk was not only enlightening, it even led one intern to set up an individual shadowing day with them. It's these genuine connections that truly make our program shine.
"The benefits of being part of this program are immeasurable. Reaching beyond oneself to empower and mentor the next generation of the healthcare workforce is a personal exercise that offers rewards outside of the traditional practice of clinical medicine." — Jamar Slocum MD, MBA, MPH
Testimonials from our 2023 Cohort

"[During the internship,] I had the privilege of working with a dedicated team in the Medical Education department, where we created a bilingual podcast aimed at serving the Latino community in America. I took this project on as my own and had the honor of being assisted by the wonderful community at ACP." — Lorett Alarcon, Amherst College

"During my time there, I engaged in several projects in the ACP Publishing Department, which provided me with valuable insights into academic publishing. I had the opportunity to connect with genuinely inspirational professionals who have given me a deeper understanding of the medical field, public health, and research publications." — Alexander Goodrich, University of Iowa
Why Your Donation Matters: Investing in the Future
Support Tomorrow's Leaders
Your donations go towards funding the paid internships, and their experiences. By offering stipends, we ensure that all deserving candidates, irrespective of their financial situation, get an opportunity to excel.
Real-World Experience Through Site Visits
Your financial support enables us to continue arranging these valuable site visits. These aren't just educational experiences; they're eye-opening opportunities that have a lasting impact on how our interns view the healthcare system, inspiring them to be change-makers in their future careers.
If you would like to help support the 2024 Intern Class and future classes: Make a transformative gift to the Internship Program.
To get more information about giving to this program, please contact Ken Boyden, Director of Major Gifts, at kboyden@acponline.org.
To learn more about the program, or if you are a health care professional or organization interested in hosting a site visit or a Q&A session: Please contact Caroline Santos Volgman at cvolgman@acponline.org or Tess Bradstock at tbradstock@acponline.org.