You are here
About the Wisconsin Chapter
About the Wisconsin Chapter
Governor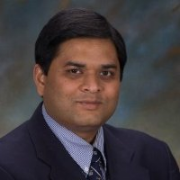 Noel N. Deep, MD, FACP
Dr. Deep serves as the official representative of the College for the Wisconsin Chapter, providing a link between members at the local level and leadership at the national level. To learn more about Dr. Deep, read his bio.
Welcome Letter | Advisory Council | Past Governors | Women's Mentoring Program
---
Awards
2020 ACP-WI Addis Costello Internist of the Year Award: Ian H. Gilson, MD, FACP
The Addis Costello Award is given by the ACP Wisconsin Chapter in memory of Dr. Costello, a Milwaukee physician leader who worked tirelessly on socioeconomic concerns affecting the practice of Internal Medicine. This award honors a practicing internist for his or her diligent efforts or achievements in the socioeconomic aspects of medical practice. Dr. Gilson has devoted his entire career to caring for underserved populations in Wisconsin and around the world. He entered clinical practice just as HIV/AIDS was becoming a national and international health crisis and was among the first HIV/AIDS specialists in our state. Throughout his career, Dr. Gilson has held various leadership roles in professional organizations that permitted him to influence health policy at local, regional and national levels. His work has also expanded to the care of other marginalized populations including those with substance abuse disorders and opioid dependence.
2020 ACP-WI Advancement of Women's Health Award: Venice Williams and Alice's Garden Urban Farm
This award recognizes a physician, resident, student, lay person, or community organization that has made a significant contribution to the advancement of women's health. Venice Williams serves as the Executive Director of Alice's Garden and has been this non-profit organization's visionary leader since 2014. This urban community garden was established in 1972 at 21st and Garfield in Milwaukee in a space that was occupied by a former neighborhood demolished for a freeway project that never happened. Alice's Garden's mission is to provide models of regenerative farming, community cultural development, and economic agricultural enterprises with the recognition of the importance of cultivating, preparing, and preserving of food and food traditions as cultural arts to be claimed by urban communities.
Award Archives
Past Award Winners | Award Descriptions | Chapter Awards
---
Member News
3 Wisconsin Chapter Members Win Awards at 2021 Internal Medicine National Abstract Competition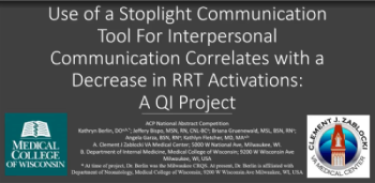 Nikhitha Chandrashekar, MD - Endocrine related side effects of Ibrutinib – A Retrospective Analysis (ePoster)

Gopika Senthilkumar - A functional, subcarinal paraganglioma adherent to the left atrial wall and supplied by large branches of coronary and bronchial arteries (Medical Student Clinical Vignette)

Kathryn EK Berlin, DO - Use of a Stoplight Communication Tool for Interprofessional Communication Correlates with a Decrease in Rapid Response Team Activations (Early Career Physician Oral Presentation: Quality Improvement Patient Safety)
---