You are here
News & Meetings
News & Meetings
Meetings
2021 Chapter Meeting - September 10-11, 2021
Save the Date - Live Meeting
2020 Chapter Meeting - September 11-12, 2020
Addis and Mary Lou Costello Family Award for Excellence in Medicine Displayed Poster Competition Winners
First Place: Olivia McCarty - Medical College of Wisconsin
"THE RISKS OF REFLEXIVE REFILLING"
Second Place: Stephanie L. Pritzl - University of Wisconsin
"EPSTEIN-BARR VIRUS AND HEMOPHAGOCYTIC LYMPHOHISTIOCYTOSIS"
Third Place: Nathalie Abenoza - Medical College of Wisconsin
"DRY SKIN OR MALIGNANCY?"
2020 Edwin L. Overholt Resident/Fellow Member Clinical Vignette Competition Winners
Winner: Anatoliy Nechyporenko, MD - University of Wisconsin
"IDENTIFICATION AND MANAGEMENT OF IDIOPATHIC CAPILLARY LEAK SYNDROME, A RARE CAUSE OF DISTRIBUTIVE SHOCK"
Runner Up: Soumya Pulipati, MD - Marshfield Medical Center
"RARE CASE OF C-TMA WITH C3 GENE MUTATION"
2020 Edwin L. Overholt Resident/Fellow Member Research Vignette Competition Winners
Winner: Nikhitha Chandrashekar, MD – Gundersen Health
"ENDOCRINOPATHIES WITH THE TYROSINE KINASE INHIBITOR IBRUTINIB – A RETROSPECTIVE ANALYSIS"
Runner Up: Lindsay A. Matthews, MD - University of Wisconsin
"PSYCHOSOCIAL EVALUATION OF PATIENTS WITH ALCOHOLRELATED LIVER DISEASE (ALD) AND ITS IMPACT ON TRANSPLANT (LT) LISTING"
---
Thank you for attending the 2019 WI Annual Scientific Meeting - September 6-7, 2019
---
News
Wisconsin Chapter Receives 2020 Chapter Excellence Award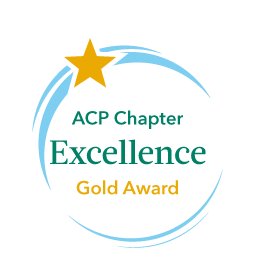 We are pleased to announce that our chapter is in receipt of the Gold Level of the 2020 Chapter Excellence Award! The award recognizes truly extraordinary chapters that surpass excellence in chapter management. We are in the company of 32 other outstanding chapters. In order to achieve the Gold Level of the Chapter Excellence Award, chapters must meet twenty-one Bronze criteria, fifteen Silver criteria and multiple Gold level activities. Criteria include such activities as having a legislative action plan or agenda, holding a volunteerism/community service activity, holding multiple stand-alone meetings, having revenue sources outside of dues and meeting registration fees, implementing a strategic plan, implementing a formal recruitment and retention plan and measuring outcomes, conducting various activities for Medical Students, Residents and Early Career Physicians. I would like to extend a special thanks to those chapter members who assisted us in all of these endeavors! For their hard work and dedication, we received this award.
---
---
Richard Neubauer Advocate for Internal Medicine Award Awarded to our Governor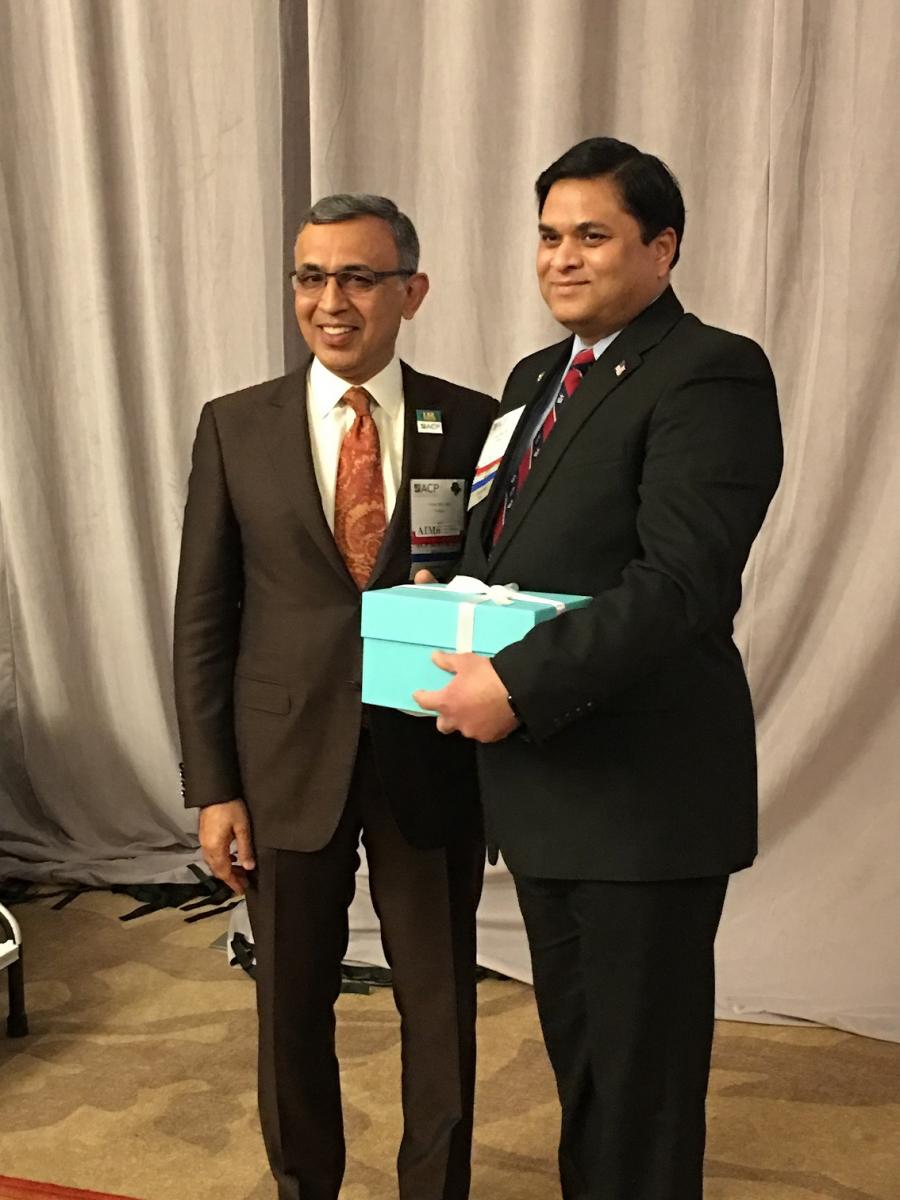 Dr. Noel Deep, Governor Wisconsin Chapter, was the recipient of the Richard Neubauer Advocate for Internal Medicine Award, which is presented each year during Leadership Day to an outstanding ACP advocate. It is named after the late Dr. Richard Neubauer, MACP, who was a champion for advocacy both at the national level and in his own beloved state of Alaska. This award recognizes the Advocate for Internal Medicine Network member (AIMn) who has made the most exceptional contribution to advance ACP's public policy agenda.
Wisconsin Women's Mentorship Program
The ACP-WI Women's Committee has formed the ACP-WI Women's Mentorship Program. This program is designed to develop mentorships for women in medicine. If you are interested in contacting one of these women mentors to ask questions or help as a sounding board, please feel free to reach out to any of the identified mentors listed below:
Sharon Haase, MD, MACP (Beaver Dam), Chair, ACP-WI Women's Committee - sharon.haase@uwmf.wisc.edu
Abigail Bales, MD, FACP (Madison) - Please email jenni@svinicki.com to get in contact with Dr. Bales.
Karen Fickel, MD, FACP (Milwaukee) - karen.fickel@gmail.com
Rachel Hawker, MD, FACP (La Crosse) - rmhawker@gundersenhealth.org
Kyla Lee, MD (La Crosse) - krlee@gundersenhealth.org
Christine Seibert, MD, FACP (Madison) - cseibert@wisc.edu
---
Become a fan of the ACP Wisconsin Chapter Facebook page!
Access to Healthcare and Medication
Governor's Newsletters
November 2020
December 2019
June 2019
March 2019
December 2018
August 2018

Chapter Communications
3-30-20: ACP-WI Call for Awards 2020
12-13-19: Badger Beat - December 2019
1-17-18: Badger Beat - January 2018