You are here
News & Meetings
---
Meetings
2018 WI Annual Scientific Meeting
Friday, September 7-8, 2018
Hotel Information
We have reserved a block of rooms at the following rates until August 7, 2018. The rooms are available on a first-come, first-served basis, so make your reservation as early as possible. Hotel reservations can be made at the Wilderness Resort and Glacier Canyon Conference Center by calling
800-867-9453
and referencing
Group # 675767.
Single/Double Room Rates:
Thursday, 9/6 - $99.99
Friday, 9/7 and Saturday, 9/8 - $109.99

Wilderness Hotel and Glacier Canyon Conference Center
45 Hillman Road
Wisconsin Dells, WI 53965

Visit www.wildernessresort.com for details on directions, parking and areas of interest.
---
Thank You for Attending - 2017 Wisconsin Chapter Meeting
The 2017 Addis and Mary Lou Costello Family Award for Excellence in Medicine Displayed Posters Winners (Three-Way Tie for First Place)

1st Place Winner: Vimalkumar Patel, MD – Aurora Health Care
"A Life Threatening and Uncommon Cause of Nontraumatic Subdural Hematoma"

1st Place Winner: Reggie Thomes, DO – Gundersen Medical Foundation
"Insulin-Derived Amyloidosis"

1st Place Winner: Yaoli Yang, MD – University of Wisconsin Hospital and Clinics
"When Pulse Oximetry Lies"

The 2017 Case-Based Vignette Winners

Winner: Kurt Swanson, MD – Medical College of Wisconsin
"Sweet's Syndrome"

Runner Up: Jamal Janjua, MD – Gundersen Medical Foundation
"Hemophagocytic Lymphohistiocytosis as an Initial but Fatal Presentation of T-Cell Lymphoma"

The 2017 Research-Based Vignette Winners

Winner: Matthew Brunner, MD – University of Wisconsin
"Fluoroquinolone Restriction Decreases Rates of Clostridium Difficile: Results of a Mixed-Methods Study"

Runner Up: Bilal Unar, MD – Marshfield Clinic
"Implementing Structured Bedside US Curriculum for Internal Medicine and MED-PEDS Resident Education: A Signal Center Experience"
---
2016 Adult Immunization Summit Presentation Slides
E-mail Jenni Kilpatrick for more information.
---
News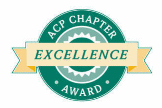 Wisconsin Chapter Receives 2017 Chapter Excellence Award
The award recognizes chapters which successfully meet the standards for managing a chapter. In order to achieve the Chapter Excellence Award, chapters must meet all basic criteria and ten optional criteria. Criteria include such activities as formulating an effective Governor's Council and committees, communicating frequently with membership, providing educational opportunities, recruiting and advancing members and celebrating membership through local awards.
Become a fan of the ACP Wisconsin Chapter Facebook page!
Access to Healthcare and Medication
Governor's Newsletters
March 2018
August 2017
February 2017
Chapter Communications
1-17-18: Badger Beat - January 2018
10-31-17: Badger Beat - October 2017
6-20-17: Badger Beat - June 2017
4-19-17: Badger Beat - April 2017