You are here
Public Policy and Advocacy
Public Policy and Advocacy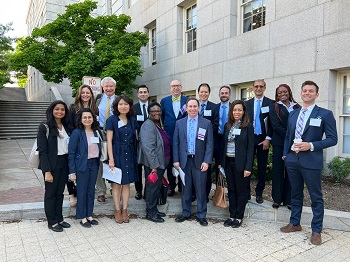 Letter to Governor Northam - February 2021
On the behalf of our members, this letter was sent to Gov. Ralph Northam on February 20 in support of access to the COVID-19 vaccine for primary care physicians and their staff. Secondly, we ask for coordination and collaboration between primary care physicians and community vaccinators such as retail health clinics and pharmacists. We encourage you to write to Gov. Northam if you have these same concerns. Our letter may be used as a template for your correspondence. Read the response from Governor Northam.
Virginia Chapter Legislative Resources
ACP Leadership Day on Capitol Hill
Leadership Day is the College's annual two-day advocacy event that enables our members from across the country to bring our issues of concern to U.S. lawmakers. This is a great opportunity for the College and our members to bring our policy priorities to Congress and try to influence the legislative process on behalf of internal medicine.
How can you benefit from Leadership Day?
In addition to having an opportunity to meet with your legislators and staff in Washington, DC, participants are provided with in-depth briefings from White House officials, Capitol Hill staffers, and members of Congress; all of whom are among the top health care decision makers.
Participants will also:
Receive a comprehensive orientation on ACP's top legislative priorities.
Earn Continuing Medical Education (CME) credits.
Learn advocacy skills that can be utilized back home.
Meet other internists who care about advocacy, including colleagues from your own state.
Learn about policy issues that impact your profession and your ability to provide quality care.
Get to know ACP leaders and staff.
Socialize and have a great time!
---
ACP Advocacy Resources
Where the College Stands on key health policy issues, news and recent policy changes.
Visit Legislative Action Center for more information about the new Advocates for Internal Medicine Network (AIMn) and the Richard Neubauer Advocate for Internal Medicine Award.