You are here
News & Meetings
News & Meetings
Meetings
Utah Chapter Meeting - March 4-5, 2021
Registration and Meeting Information
---
2021 Call for Poster Submissions:
We invite medical students, residents and fellows to submit a poster for our Utah ACP Competition! Your poster can detail an interesting patient case or your research/quality improvement work related to topics in Internal Medicine. All submitted posters will be presented virtually during our ACP Chapter Meeting March 4th, 2021.
Judges will select 2 semi-finalists winners from both poster categories – Clinical and Research – who will receive a cash prize. If you are scheduled for a clinical rotation during the competition, there may be coverage available to allow you to present. The grand prize winner (selected out of the 4 semi-finalists) will present their work at ACP 2022 in Chicago, IL and receive $600 towards travel expenses and free attendance at the meeting. You will categorize your poster among the following categories: Clinical Vignette or Research (Clinical, Basic Science or Quality Improvement/Patient Safety).
Poster submissions for the spring 2021 meeting will be accepted from now through Friday, February 26th, 2020 at midnight. Poster formatting details can be found in the attached word document as well as an example poster template.
Poster Formatting Guidelines
Poster Example
FAQs:
Do I submit an abstract or a poster?
For our Spring poster competition, please submit a Power Point file of your completed poster to contact@utahacp.com. Please note this is a poster competition, in contrast to our fall competition for written abstract submissions.
Who can submit a poster?
Any Utah medical student, interns (categorical Internal Medicine, preliminary or transitional year), Internal Medicine resident (also open to preliminary or transitional year interns) or fellow within an Internal Medicine specialty can submit a case.
What if I cannot attend the poster competition?
Every effort will be made to arrange for coverage if you have conflicting clinical duties. All finalists must be present for the poster competition.
What is expected of finalists?
Finalists will be expected to give a brief oral presentation of their posters for judges during the ACP Poster Competition on Thursday, March 4th from 4:30 PM – 5:30 PM.
When will I find out if I am a finalist?
You will be notified once preliminary judging is complete, by March 1st, 2021.
Can I submit my poster if it has been presented elsewhere?
You can submit work that has been (or planned to be) presented elsewhere but presentation at ACP may jeopardize presentation before another society. Posters previously submitted to an ACP poster competition (local or national) are ineligible. Posters based upon work that has been published as a full paper are not eligible.
---
2020 ACP Student & Resident/Fellow Clinical Vignette Competition - 10/8/20
Clinical Vignette Booklet
Presentations
Thank you for attending the Utah Chapter Meeting - March 5-6, 2020
Chapter Meeting Presentations
---
Utah Chapter Receives 2019 Chapter Excellence Award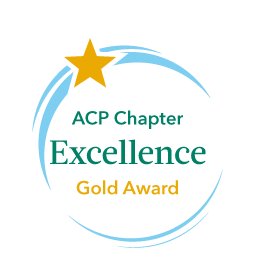 We are pleased to announce that our chapter is in receipt of the Gold Level of the 2019 Chapter Excellence Award! The award recognizes truly extraordinary chapters that surpass excellence in chapter management. We are in the company of 32 other outstanding chapters. In order to achieve the Gold Level of the Chapter Excellence Award, chapters must meet twenty-one Bronze criteria, fifteen Silver criteria and multiple Gold level activities. Criteria include such activities as having a legislative action plan or agenda, holding a volunteerism/community service activity, holding multiple stand-alone meetings, having revenue sources outside of dues and meeting registration fees, implementing a strategic plan, implementing a formal recruitment and retention plan and measuring outcomes, conducting various activities for Medical Students, Residents and Early Career Physicians. I would like to extend a special thanks to those chapter members who assisted us in all of these endeavors! For their hard work and dedication, we received this award.
---
Governor's Newsletters
[November 2020 | July 2020 | May 2020 | January 2020 | October 2019 | July 2019 | May 2019 | February 2019 | July 2018 ]
Governor's Newsletter Archive
---
Chapter Communications
3-20-20: Members have until April 19th to comment on ACP Board of Governors' resolutions
3-3-20 - ACP Utah: Invitation to Film Event in St. George – RSVP by March 24th
1-8-19 - Health and Public Policy Update
12-6-18 - Registration is Now Open: 2019 Chapter Scientific Meeting
9-19-18 - Utah Invitation: Clinical Vignette Competition October 3rd at 5:30 PM
New York Times Article on Hospital Costs Featuring Dr. Pendleton