You are here
News & Meetings
News & Meetings
2021 Rhode Island Annual Meeting
The RI ACP Annual Meeting will take place this year on March 17th, 2021. With the rise in the number of COVID cases and out of a concern for safety, we have decided to hold the meeting virtually. With this format, our goal is to continue to provide a robust program. The day will be a combination of prerecorded and real time presentations and discussions, including podium presentations and posters.
More information, including agenda and registration.
Nominate a Colleague for the following awards:
Milton Hamolsky Lifetime Achievement Award
Irving Beck Laureate Award
Distinguished Mentor Award
Resident/Fellow Recognition Award for Leadership
Woman Physician of the Year

Rhode Island Chapter Delivers Food to Residents and Hospitalists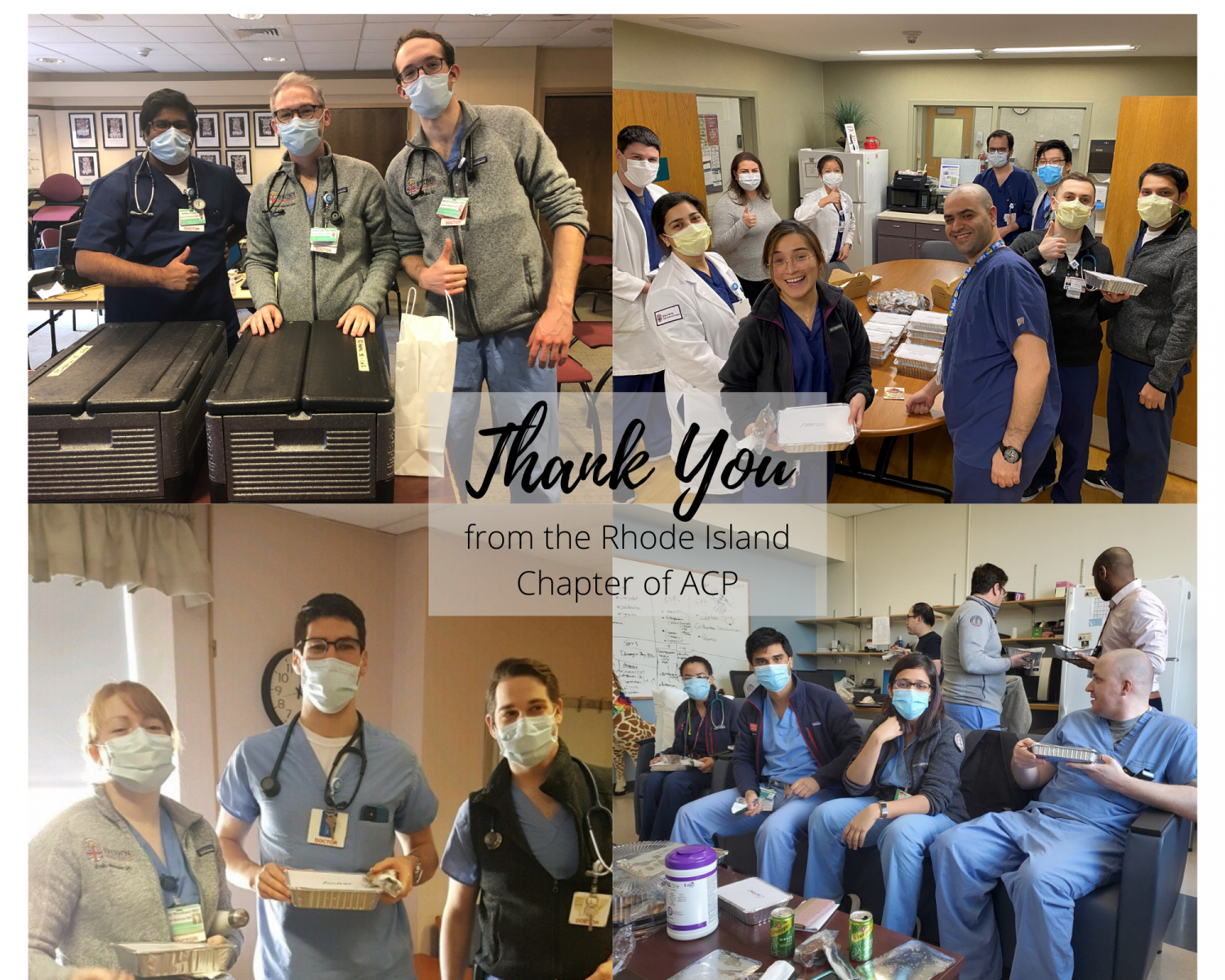 Dear Chapter Members:
We are in a new world and new words have entered our vocabulary, like "social distancing," "quarantine," and "isolation." Not words that make us feel more connected, but a necessary part of our current existence.
I am sure I speak for many when I acknowledge a multitude of feelings - sadness, anxiety, anger, loneliness and fear. Over the past few weeks watching so many rise to this crisis and chaos, have experienced so many other feelings to offset the negative - heroism, sacrifice, pride, warmth, and human kindness. I hope we can remember the acts of kindness and caring we have all witnessed and to bring those feelings out and share them with others as coronavirus fades (I certainly hope that is soon).
Thanks to all for all you are doing to care for your patients during this unique time in history. I want those in our community whose lives have been personally affected by coronavirus to know that our hearts go out to you and your loved ones. In some hospitals, the bulk of the care of COVID-19 patients is currently being provided by our pulmonary/critical care colleagues and hospitalists. I want to give them a special shout out of thanks for all of the hard work they are doing.
The Chapter wanted to show thanks to all the residents and hospitalists on the front lines across the state, including the Miriam Hospital, Kent County Hospital, RI Hospital, the Roger Williams Medical Center and the Veterans Hospital, by donating dinner to them last week.
Remember, the ACP is here to make a difference for all RI physicians and I welcome input and ideas from individuals even during this crisis. Please see below for helpful links.
Thanks again for all you are doing and please stay safe. Please remember to take care of yourselves.
Kelly McGarry
---
2020 RI Chapter Scientific Meeting Cancelled
I was looking forward to seeing you all at the meeting.
Thanks so much for your understanding.
Kelly McGarry, MD, FACP
Governor, RI ACP

The Warren Alpert Medical School of Brown University
Providence
---
Roger Williams Medical Center Team Wins RI Chapter Doctor's Dilemma
Doctor's Dilemma competition was held on November 20 at the Alpert Medical School. The ACP version of Medical Jeopardy drew a big crowd of fans, as resident teams from Kent, Lifespan and Roger William Medical Center participated. The team of John Martino, Brett Brownlee, and Yashvin Mangala from RWMC won and they will travel to Los Angeles in April for the National competition.

Front row: Rachel Darling, MD, Zeenat Shameem, MD, Erin Baroni, MD, Cheryl Monteiro, MD. Back row: Charles Sherrod, IV, MD, Neel Belani, MD, Jared Giordano, MD, Meaghan Martinez-Palmer, DO, Matthew Hall, DO, Martin Cotti, MD, John Martino, MD, Brett Brownlee, MD, Yashvin Mangala, MD
---
Rhode Island Chapter Receives 2020 Chapter Excellence Award

We are pleased to announce that our chapter is in receipt of the Silver Level of the 2020 Chapter Excellence Award! Only 18 chapters received the Silver Award. The award recognizes chapters that achieve excellence in chapter management. In order to achieve the Chapter Excellence Award, chapters must meet twenty-one Bronze criteria and fifteen Silver criteria. Criteria include such activities as undertaking efforts to increase advocacy efforts, collaborating with stakeholders to increase visibility of the ACP, holding competitions for members, providing chapter financial reports to members, having Medical Student and Resident/Fellow members on the Governor's Advisory council, retaining transitional and unpaid members, giving awards to chapter members.
I would like to extend a special thanks to those chapter members who assisted us in all of these endeavors! For their hard work and dedication, we received this award.
---
---
Thank You For Attending the 2019 Chapter Annual Scientific Meeting!
March 18, 2019
The Warren Alpert Medical School at Brown University
Providence
2019 Podium Presentation and Poster Competition
Brochure
Please contact Roni Phipps with any questions.
---
See What Happened! Rhode Island Event Photos
The September Hospitalist dinner at the Marriott Providence was a success, with interesting and informative discussions. Here is a photo of an engaging conversation with Dr. Joe Li and some Rhode Island Hospitalists.
We had a great chapter meeting! Take a few moments to view photos from the meeting.
See how our chapter members participated in and enjoyed the Internal Medicine Meeting 2018 in New Orleans!
---
2017 Abstract Booklet
The 2017 Rhode Island Chapter Abstract Booklet is now available for download.
---
Like us on Facebook!
---
Governor's Newsletters
The Wave: Rhode Island Governor's Newsletter
October 2020| February 2019 | June 2018