You are here
News and Meetings
News and Meetings
Nebraska Chapter 2021 Abstract Competition
Call for Med Students Abstracts
Medical Student Submission Form
MS submission deadline is 11:59 CT Sunday, August 29, 2021.

Call for Resident/Fellow Abstracts
Resident/Fellow Submission Form
RF submission deadline is 11:59 CT Sunday, September 5, 2021.
---
ACP's Position on Racism
The American College of Physicians has issued a statement regarding racism in the United States. There is an urgent need to speak out against the ongoing racisim and violence being seen across the country. ACP condemns the injustices and harms experienced by black individuals and other people of color and the Nebraska Chapter of ACP supports this policy. Please click here to read the entire statement.
---
Volunteers Needed for COVID Vaccine Administration
Health departments across the State of Nebraska are in need of medical professionals to serve as volunteers. Click here to learn more and get involved today!
Important Note: We are making this info available for your information and individual assessment of interest in participating. ACP Nebraska Chapter is not suggesting that you should encourage your patient participate. Participation would be completely voluntary and ACP Nebraska Chapter will not know whether you do or do not participate.
---
2020 Scientific Meeting Recordings Now Available
Several presentations from the 2020 Nebraska Chapter meeting are available for viewing on the chapter YouTube page. Click here to access and be sure to view the CME Instructions video to learn how to claim your credit.
---
2020 Virtual Abstract Competition
Medical Student Abstract Booklet
Resident/Fellow Abstract Booklet
For any questions please email Cindy Vaccaro.
---
---
Nebraska Chapter Receives 2020 Chapter Excellence Award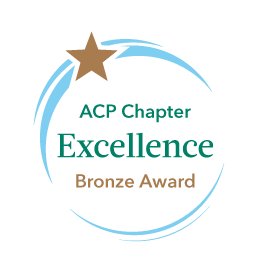 We are pleased to announce that our chapter is in receipt of the Bronze Level of the 2020 Chapter Excellence Award! The award recognizes chapters that achieve basics in chapter management. In order to achieve the Chapter Excellence Award, chapters must meet twenty-one Bronze criteria. Criteria include such activities as being involved in advocacy activities, communicating with members, having a chapter/regional scientific meeting along with a planning committee, having a sound financial structure in place, recruiting and advancing members and having an awards committee that identifies candidates for local or national awards. We would like to extend a special thanks to those chapter members who assisted us in all of these endeavors! For their hard work and dedication, we received this award.
---
2019 South Dakota/Nebraska Chapter Meeting
Claim your CME credits from the 2019 Chapter Meeting
---
HIV Pre-exposure Prophylaxis
The Nebraska ACP Chapter recently partnered with the Nebraska Chapter of the Society of Hospital Medicine (SHM) to offer an educational meeting on the topic of HIV Pre-exposure Prophylaxis. The speakers were Sara Bares, MD, Assistant Professor, UNMC Division of Infectious Diseases and Josh Havens, PharmD, BCPS, Clinical Pharmacist of the UNMC HIV Program. Click this link to watch the presentation or here to download the slides.
---
Additional CME Opportunities
Search Additional CME Opportunities
Maintenance of Certification Learning Sessions Participant Information
---
Governor's Newsletters
Governor's Newsletters Archive