Monthly Events
Virtual Doctor's Lounge
Zoom | 7 pm ET Second Thursday of each month
Join in the monthly Virtual Doctors' Lounge for an hour-long discussion of how to create and enforce boundaries to support your priorities.
Writers Wellness Workshop
Zoom | 8 pm ET First Wednesday of each month
Join us for the Writers Wellness Workshop, monthly.
Stories Heal and Reveal: A Radical Listening and Reflective Writing Workshop
During these workshops we will practice radical listening, reflective writing, and sharing of stories. We can build on these expressions and insights by coaching on next steps and further exploration of thought.
---
Upcoming Meetings
Stay tuned for more information!
Questions? Contact Megan Eberle, meberle@ncmedsoc.org, or 919-623-3838.
---
Past Meetings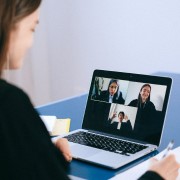 2023 North Carolina Chapter Meeting
March 3-4, 2023
2022 North Carolina Chapter Virtual Scientific Meeting
February 11-12, 2022
---
2021 North Carolina Chapter Virtual Annual Meeting