You are here
News & Meetings
Thank You for Attending! - 2018 Annual Chapter Scientific Meeting
February 23-24, 2018
Grandover Resort, Greensboro
Claim CME Credits and MOC Points
Note: The website for claiming CME credit will be live beginning at 12 noon on the last day of the meeting.
You must claim CME credit before you can claim MOC points.
Please use the links on the page to claim credits and points. The documentation provided at the meeting contains incorrect links. We apologize for any inconvenience.
DEADLINE: MOC Points must be claimed by December 31, 2018.
Questions? Contact Nancy Lowe via email or at 919-833-3836.
---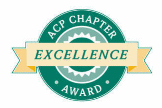 North Carolina Chapter Receives 2017 Chapter Excellence Award
The award recognizes chapters which successfully meet the standards for managing a chapter. In order to achieve the Chapter Excellence Award, chapters must meet all basic criteria and ten optional criteria. Criteria include such activities as formulating an effective Governor's Council and committees, communicating frequently with membership, providing educational opportunities, recruiting and advancing members and celebrating membership through local awards.
---
Thank You for Attending! - 2017 Annual Chapter Scientific Meeting
February 24-25, 2017
Questions? Contact Nancy Lowe via email or at 919-833-3836.
---
Governor's Newsletters & Communications
Governor's Newsletters
2018
2016
October
June
March
February
January
Chapter Communications
July 26, 2017: UHC Notice
June 20, 2017: Action Alert
April 17, 2017: Legislative Update
January 3, 2017: DEA Decision
September 8, 2016: M3 Conference