You are here
Public Policy & Advocacy
Public Policy & Advocacy
Update from Amanda Collar, Health and Public Policy Chair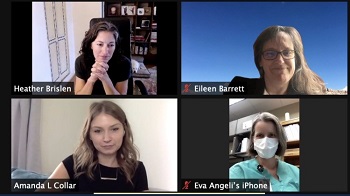 (July 2021) The New Mexico ACP had a dream-team of participation at virtual Leadership Day 2021 (May 25-26th). We had the pleasure of meeting with staff from Representatives Yvette Herrell and Teresa Leger Fernandez and Senators Martin Heinrich and Ben Lujan's offices. The NMACP was able to have really productive and wide-ranging conversations with all offices about expanding telehealth and broadband access, lowering prescription drug prices, supporting trainees and GME through loan deferment and increasing residency slots to address physician shortages, and social justice (including extreme risk protections.) We were able to directly thank members for supporting the COVID-19 Hate Crimes Act, Equality Act, Bipartisan Background Checks Act, and George Floyd Justice in Policy Act.
---
Current and former Governors receive Advocacy Awards
(May 2021) Our NM Governor, Dr. Heather Brislen was awarded the 2020 The Richard Neubauer Advocate for Internal Medicine Award at Leadership Day in May. The Award recognizes the Advocate member who has made exceptional contributions to advance the College's public policy agenda. Congratulations! Read more here.
Former ACP NM Governor and ACP Regent, Dr. Eileen Barrett was recognized in May with ACP Services PAC Distinguished Service Award. Congratulations!
---
Leadership Day
Leadership Day is the College's annual two-day advocacy event that enables our members from across the country to bring our issues of concern to U.S. lawmakers. This is a great opportunity for the College and our members to bring our policy priorities to Congress and try to influence the legislative process on behalf of internal medicine.
Save the date! Leadership Day 2022 will be held May 17 & May 18, 2022.
As we look to 2022, we are making plans for an in-person event at the Mandarin Oriental Hotel in Washington, DC on May 17-18 for Leadership Day 2022.
Leadership Day enables the College to increase its presence on Capitol Hill and bring our issues of concern to U.S. lawmakers. ACP members will receive two days of in-depth briefings on the College's legislative priorities and an opportunity to meet with elected officials.
Due to continued COVID-19 concerns and because the safety of our attendees is important to us, we will continue to closely monitor and adhere to CDC and local guidelines as we plan this event.
How can you benefit from Leadership Day?
In addition to having an opportunity to meet with your legislators and staff in Washington, DC, participants are provided with in-depth briefings from White House officials, Capitol Hill staffers, and members of Congress; all of whom are among the top health care decision makers.
Participants will also:
Receive a comprehensive orientation on ACP's top legislative priorities.
Earn Continuing Medical Education (CME) credits.
Learn advocacy skills that can be utilized back home.
Meet other internists who care about advocacy, including colleagues from your own state.
Learn about policy issues that impact your profession and your ability to provide quality care.
Get to know ACP leaders and staff.
Socialize and have a great time!
---
ACP Advocacy Resources
Where the College Stands on key health policy issues, news and recent policy changes.
Visit Legislative Action Center for more information about the new Advocates for Internal Medicine Network (AIMn) and the Richard Neubauer Advocate for Internal Medicine Award.