You are here
News & Meetings
News & Meetings

Upcoming Events
Anti-Racism in Medicine Discussion Group
October 20, 2021 | 7:00PM, Virtual
Future Dates: December 8 2021, February 16th 2022, April 20th 2022
Please join the ACP Medical Students and Residents for an every other month discussion group to learn about and discuss racism in medicine among medical students, residents, and practicing physicians. Each session will be associated with a short reading, video, or story, and will include time to reflect on the material and discuss perspectives on how we may stand against racism in medicine.

For the October 20th session (7:00pm) we will be covering an article from the AMA titled "Invisibility of Anti-Asian Racism" linked HERE. Secondly the video linked HERE, which is video discussing what anti-racism is like in Canada and includes some first hand accounts.
---
Upcoming Meetings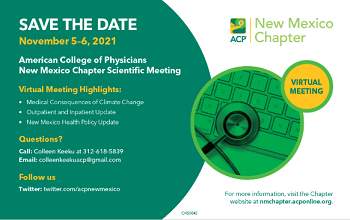 2021 Virtual Chapter Meeting
November 5-6, 2021
All of the CME content will be on Friday, November 5 via zoom, and will featuring enduring favorites: Inpatient & Outpatient Medicine Update, Dr. Scrase's Thieves' Market and a state health policy update. We also have a fabulous keynote lined up – Dr. Doug DeLong speaking on The Medical Consequences of Climate Change. On Saturday, the poster session, vignettes, and social events will be (hopefully, fingers crossed) in person. Stay tuned for details!
---
Past Meetings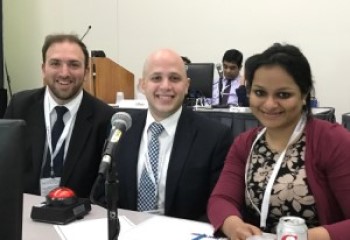 2020 Annual Scientific Meeting
October 15-17, 2020
---