You are here
News & Meetings
News & Meetings

Upcoming Events & Meetings
Weekly Grand Rounds | 12:30-1:30 p.m.
CME credit: If you are eligible for CME credit, please scan the QR Code which will be displayed before, during and at the end of the presentation. If you are a fellow, and are already MD, you CAN receive CME credit toward your continuing education requirement. Also advanced practice nurses can also submit CME credit towards your nursing boards to verify continuing education.
To request CME credit, please contact the CPL office.
Email: HSC-CPL@salud.unm.edu
Anti-Racism in Medicine Discussion Group
April 20, 2022| 7:00 p.m. Virtual
Please join the ACP Medical Students and Residents for an every other month discussion group to learn about and discuss racism in medicine among medical students, residents, and practicing physicians. Each session will be associated with a short reading, video, or story, and will include time to reflect on the material and discuss perspectives on how we may stand against racism in medicine.
Influencing Change in Medicine: Leadership in Equity
May 14, 11:00 AM ET/10:00 AM CT/8:00 AM PT -1.5 hour program
More Information! Sponsored by: California Region 3, Illinois, New York, Oregon, and Texas Chapters of ACP
Note: If you register 24hrs prior to the event you will not receive a confirmation email from us.
Meeting Hub
2022 New Mexico Chapter Annual Scientific Meeting
November 4-5, 2022 | Albuquerque
Save the date!
---
Past Meetings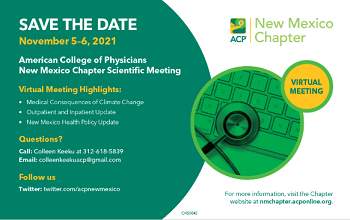 2021 Virtual Chapter Meeting
November 5-6, 2021
Access the Meeting Hub and Claim CME | Non-members, purchase the recorded meeting to listen to on-demand sessions. Free for members!