You are here
News & Meetings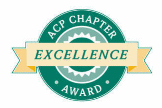 Central America Chapter Receives 2017 Chapter Excellence Award
The award recognizes chapters which successfully meet the standards for managing a chapter. In order to achieve the Chapter Excellence Award, chapters must meet all basic criteria and ten optional criteria. Criteria include such activities as formulating an effective Governor's Council and committees, communicating frequently with membership, providing educational opportunities, recruiting and advancing members and celebrating membership through local awards.
Central America Chapter - Meet Our Governor, Nestor Sosa, MD, FACP

ACP Central America Chapter Meeting - Thank You for Attending!
January 26-27, 2018
Hotel Sheraton, Panama City
Panama City, Panama
Meeting Program
Claim Your CME Credit from the 2017 Chapter Meeting
Reclamar Credito CME por asistir la Reunión 2017
---
Governor's Newsletters
June 2017 March 2017 June 2016
Chapter Communications
01-07-18: Invitación a la Cena de Gala el 27 de enero 2018
12-12-17: Concurso de Posters ACP (fecha limite 15 de diciembre)
12-06-17: Annual Chapter Meeting Invitation
09-14-17: ACP Central America Chapter Meeting: Save the Date!