Upcoming Events and Meetings
2024 Central America Chapter Annual Scientific Meeting
February 1-3, 2024
Sortis Hotel | Panama City, Panama
Additional details coming soon!
Abstract Competition
Deadline for Phase 1 of competition is November 15. Apply today!
Past Meetings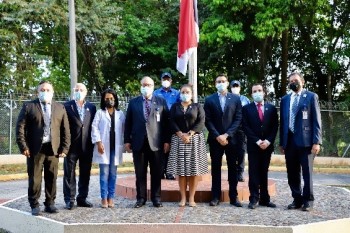 2023 Central America Chapter Meeting
---
2022 Central America Chapter Meeting
Flyer | Oceano Medicina interviews Dr. Ulloa Isaza regarding the importance of scientific meetings.
2021-2022 ACP Central America Abstract Competition
Abstracts
First Author                       Abstract Title (click on title to view)
Jose Delgado                     Carcinoma de Células Escamosas de Cuello en Paciente con Síndrome de Inmunodeficiencia Adquirida: Reporte de Caso
Ariel Alexis Mojica Rodriguez  Histoplasmosis colónica asociada a linfopenia por inmunosupresores en Enfermedad de Crohn
Fernando Perez                 Mielinosis extrapontina
Ivana Nuñez                      Convulsiones como Manifestaciones Atipica Inicial en Adultos de Sindrome de Sturge Weber
Yurielis Ramos                  Características clínicas y epidemiológicas del Espectro de Neuromielitis Óptica en los pacientes atendidos en octubre 2019 a agosto 2021. Consulta de Neurología, Complejo Hospitalario Dr. Arnulfo Arias Madrid, Caja de Seguro Social, Panamá.
Elvia Evers                         Endocarditis y Cancer del Colon: Que Tienen en Comun?
Arelis De Gracia                Esclerosis Lateral Amiotrofica
Cristel Rodriguez              Infeccion de Sitio Quirurgico por Shewanella Algae en Paciente con Cancel Colorrectal
Maria Ana Robles              Viviendo con el Enemigo: Intoxicacion Cronica por Plomo
Lalagie Binns De La Rosa   Síndrome de Overlap de Hepatitis Autoinmune y Cirrosis Biliar Primaria
Judy Mendoza                   Linfoma cutáneo de células T gamma-delta. De la literatura a la vida real.
Abdullah Salehji                Pancreatitis Necrotizante por Organofosforados, de la Sospecha Clinica al Tratamiento Oportuno 
Alam Guerra                     Proptosis y escleritis recurrente como única manifestación de granulomatosis con poliangeítis
Juan Raymundo                Síndrome antifosfolípido primario catastrófico
Harold Bravo Thompson   Factores relacionados al desarrollo de endocarditis infecciosa en pacientes en hemodiálisis en el CHDrAAM 2010-2020
---
2021 Central Chapter Virtual Scientific Meeting
Tuvimos una asistencia total de 390 personas. La calificación fue excelente tanto para los temas como los expositores. El Doctor's Dilemma fue ganado por el equipo del Complejo Hospitalario de Panamá, quien nos representara en la competencia nacional en Estados Unidos en el mes de mayo de este año. Felicitaciones al grupo compuesto por los doctores Hiram Guevara, Efraín Tatis y Elsa Ruedas. Los mismos fueron reconocidos por el Director General de la Caja del Seguro Social con la izada de la bandera en la ceremonia de los lunes en el edificio 519 en Clayton.
Abstracts
First Author                       Abstract Title (click on title to view)
Maria Ana Robles              Artritis seronegativa como debut de Enfermedad de Crohn
Jhoel Amores                     Nefrotoxicidad por vancomicina en pacientes de la UCI del Hospital Santo Tomás en 2018
Luis Quijada                       Dermatomiositis Paraneoplásica asociada a Adenocarcinoma Gástrico Asintomático
Cristel Rodriguez Vargas   ECV del Adulto Joven Único en su Clase: Vasculitis Primaria del SNC
Ana Cordoba Fajardo        Miopericarditis aguda como presentación inusual de Dengue
---