Congratulations to the India Chapter Governor-elect Designee (GED), Swati Srivastava, MBBS, MD, FACP. Our new GED will complete a year of training as a Governor-elect and then will start their four-year term as Governor in the Spring of 2025. As Governor, Dr. Srivastava will serve as the official representative of the College for our Chapter, providing a link between members at the local level and leadership at the national level. In the meantime, Dr. Srivastava will be working closely with Dr. Maheshwari (the current governor) and College staff to learn about the College and their duties as Governor. To learn more about the new GED, read their bio below.
---
Swati Srivastava, MBBS, MD, FACP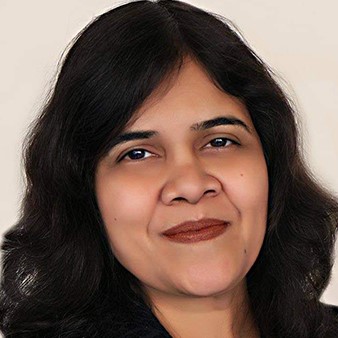 Medical School Education: MBBS and MD, Baroda Medical College, MS University, Vadodara, Gujarat (I secured Gold medal for being the best candidate in MD Examination of the year 1995 in the Institute.)
Post-Doctoral Training: Fellow in Diabetes, CMC Vellore; Trained in Endocrine Techniques, Applications, NIN, ICMR
Board Certifications: MBBS and MD, Baroda Medical College, MS University, Vadodara, Gujarat
Present Employment Position: Professor & Unit Head, Department of Medicine, SMS Medical College and attached group of Hospitals, Jaipur, India
ACP Chapter and Leadership Activities: Member, Central Zone Executive Advisory Council past 2 years; Chair, Students and Residents Committee for past 2 years; Resident Mentor for Student Participation, Osler Cup Doctor's Dilemma Contest past 2 years; Member, Awards Credentialing Committee 2022; Conductor, Resident's Training Program (under the ACP banner for encouraging Residents to be involved with ACP); Moderator, Public ACP Diabetes Control Month Program (on Facebook) 2021; Conductor, ACP Covid and HT Public Program on Public Awareness with distinguished experts Dr. A Muruganathan and Dr. Aditya Kapoor (July 21); Conceptualizer and Preparer, Chapter Newsletter 2022; Host & Moderator, Panel Discussion with Speakers Dr. Shanu Gupta and Dr. Lauren Block, How To Write A Case Report 2023; Lecturer, Research Paper Writing Workshop, How To Formulate A Research Question 2023; Host, Many Interactive Sessions and CMEs under the ACP banner; Award Recipient, Women Physician of the Year 2021 (for outstanding contribution in the field of patient care & setting new standards in clinical practice)
ACP National Activities: Fellowship 2021; Recipient, Certificate of Appreciation, Women in Medicine 2021 (in recognition of efforts to promote gender equality and support the career advancement of women in Medicine); Contributor, Internal Medicine Meeting; Moderator, International Speaker Sessions, Internal Medicine Meeting
Other Appointments/Activities: Professor, Unit Head, Medical College, Jaipur (I mentor faculty and postgraduate resident doctors. The responsibility involves proper coordination, good patient management and academic learning); Examiner, Many Universities; Senior Executive Committee Member, API and RSSDI (These roles involve planning and executing activities of the associations for the betterment of internists, improved patient care); Member, Research Review Board, SMS Medical College; Journal Reviewer, International Journal of Diabetes in Developing Countries (IJDDC) and Journal of Association of Physicians of India (JAPI); FACE; FRCP(Edin); FICP; FDI
Areas of Professional Interest and Expertise: Following my long tenure as a faculty in a medical college, I have a keen interest in academics, mentorship, research and knowledge exchange. I have contributed to National/ International Associations AACE, ACP, API, RSSDI, ICP by conducting Quiz/ question banks/ judge for presentations/ Community participation/ reviewer/ authorship. With extensive research, I have about 40 publications/ abstracts/ chapters in books, reviewer of JDDC, JAPI, member Research Review Board SMSMC. I have a passion for participating in educational and awareness programs in the society. As service to the underprivileged, I participate in health camps, contributing by talks in the electronic/ print media/ social platforms for spreading health awareness in the society. As a professional internist, my field of interest is in Diabetology, Thyroid disorders and metabolic disorders. I have been the chief consultant of "Thyroid Clinic" at the SMS Medical college from past 15 years. I have received several prestigious awards and orations at the state and the national level.