Dynamed® is collaborating with ACP to provide ACP members with free access to its augmented decision-support platform, DynaMedex™. A powerful point-of-care tool, DynaMedex seamlessly combines the clinical expertise and extensive curated disease content of DynaMed with the comprehensive drug information and advanced search capabilities of Micromedex®.
With DynaMedex, ACP members can make more informed medical decisions with ease and confidence. 
To ensure content accuracy, ACP oversees the peer review of the Overview and Recommendations section of the internal medicine topics most used by ACP members. Look for the ACP logo on these peer-reviewed topics.
Access DynaMedex for Free*
*ACP members can easily sign in using their ACP member credentials with single sign-on functionality!
Learn more about the NEW and expanded platform:
Get to Know DynaMedex
DynaMedex delivers fast access to the information busy clinicians need, when and where they need it, to make the best, most informed decisions at the point of care.
Practice With Confidence
Robust coverage of more than 30 specialties, daily content updates, and personalized alerts, including those that are potentially practice changing
Powerful search technology speeds time from question to answer 
Unbiased clinical content and practice recommendations subject to a rigorous Conflict of Interest Policy
Recommendations distinguished on the basis of evidence, published guidelines, or—when necessary—expert opinion, with one-click access to full-text resources 
Advance clinical decision support, patient engagement tools, and access to shared decision-making tools with DynaMed Decisions
Access Comprehensive Drug Information
Comprehensive, trusted adult and pediatric drug information
Expanded drug monographs, including Micromedex In-Depth Answers
Tools to check drug interactions and IV compatibility
Neonatal and pediatric monographs from NeoFax/Pediatrics
Natural language chatbot for quick medication answers in context
Enjoy a Personalized Streamlined Interface
Single sign-on access enhances workflow efficiency
Preferences for topic choices are remembered and practice-changing updates and content relevant to your expertise are highlighted
Earned CME credits and MOC points are continuously tracked through the DynaMedex CME ticker (certificates are stored for easy access); Baylor College of Medicine Office of Continuing Education is the CME provider
Take DynaMedex On-the-Go 
Get access anytime, anywhere with the DynaMedex mobile app. Go to the iOS App Store or Google Play Store and search for DynaMedex, or scan the QR code below. Take a tour of the DynaMedex mobile app with a video tutorial.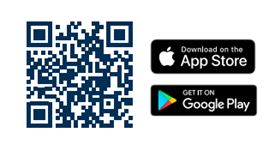 Supports International Clinicians
Local-language search capability with 15 available languages
Clinical content with the latest guidance from a wide variety of international guideline organizations
International drug names included for easy searching
---
For further assistance, e-mail ACP-DMX@acponline.org.