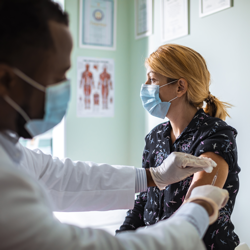 ACP Advance: I Raise the Rates initiative provides adult immunization resources and vaccination information to help clinicians increase adult immunization rates in their practices.
The Adult Immunization resource hub was developed as part of ACP's I Raise the Rates initiative to assist physicians and their teams to assess, understand and improve adult immunization rates and patient outcomes in their clinical settings.
Updated for 2023 2023 ACIP Adult Immunization Recommendations
In these videos, Dr. Sandra Adamson Fryhofer, MD, MACP explains the 2023 Advisory Committee on Immunization Practices' Adult Immunization Recommendations.
These videos were developed through ACP's I Raise the Rates program supported by the Centers for Disease Control and Prevention of the U.S. Department of Health and Human Services and Sanofi Pasteur Inc.
New Practical Immunization Tips: Microlearning Resources
Stay up to date on the latest pneumococcal and flu vaccine recommendations and learn time-saving tips to make effective vaccine recommendations and boost vaccine confidence.
New High Value Care Immunization Referral Toolkit
Every member of the healthcare team has a role to play in raising immunization rates. This resource provides tools to facilitate more effective and collaborative immunization referrals among those in your patient's immunization neighborhood.
New Get Your FREE Adult Vaccination Rx Pads!
Vaccination referral resource containing ACIP recommended vaccines for adult patients.
Order a FREE Print Copy
Download a FREE PDF
New Video Available Increasing Adult Vaccinations: A Subspecialist's Perspective
Subspecialists share the rationale for raising immunization rates among patients with high-risk chronic conditions
Stay up-to-date on the latest vaccine recommendations, guidelines and clinical updates in adult immunization. 
ACP Resources
CDC Resources
ACP Resources
COVID-19 Recovery: Team-Based Care Toolkit: This resource features team-based resources to help physicians, their teams, and their patients optimize team-based care during and after a pandemic. Topic areas include steps to optimal team-based care, effectiveness of team-based care in a pandemic, using telehealth to manage high-risk chronic conditions, informing patients about changes in practice, and sustaining teams and positive changes.
Learn core quality improvement skills and how to apply them to increase your adult immunization rates in your practice.  
ACP Quality Improvement Leadership Training: Best Practices in Engaging and Empowering Clinical Teams in Continuous Improvement. These training videos provides a step-by-step guidance, based on ACP's QI approach, to help participants through their QI journey.
Practical Approaches to Increasing Adult Immunization
ACP Quality Improvement Curriculum is a step-wise approach that guides you through each stage of the QI journey from establishing the "what" and "why" for change to implementing and sustaining change. This online curriculum, developed by physicians for physicians and their teams, is offered as a series of four modules. Physicians who complete this curriculum are eligible for up to 4 AMA PRA Category 1 CreditsTM and ABIM MOC points. Physicians are also eligible to earn patient safety credit.
Access these resources to help support vaccine administration in your practice. including vaccine assessment, implementing standing orders, understanding the business case for vaccines as well as ordering, storage and handling, billing and coding.
CDC Resources
Needle Resource Guide: Addresses questions on types of needles to use, questions to ask supply distributors and contact information for CDC and FDA to report issues or ask technical questions.
You Call the Shots Vaccine Administration e-Learn: The e-Learn is a free, interactive, online educational program that serves as a useful introductory course or a great refresher on vaccine administration. Continuing education (CE) is available. Visit the You Call the Shots web page to view available modules.
Comprehensive Vaccine Administration Information: Now is a great time to remind staff members who administer vaccines how to do it right. CDC has developed various tools to share with members of your health care community
Immunization Action Coalition (IAC) Resources
Other Resources
Coding and Billing for Adult Vaccinations: This webpage developed by the National Adult and Influenza Immunization Summit (NAIIS) provides information on the top questions identified with coding and/or billing for adult vaccinations, scenarios that detail how to go about coding and billing for adult vaccines, and collected resources from the Summit's medical association, public health, and vaccine manufacturing partners.
Reasons to Invest in Adult Vaccination Implementation: This document developed by the National Adult and Influenza Immunization Summit (NAIIS) highlight the importance of adult immunization for populations health and discusses both the financial feasibility of adult vaccination implementation and implementation strategies.
Increase your practice capacity to raise adult immunization rates and efficiency through involvement of the full healthcare team.
ACP Resources
Increasing Immunization Rates - In this video, Dr. Marie Brown and Sandra R. discuss steps they have incorporated in their intake and rooming process that have resulted in increase immunization rates in their office.
Patient education resources and tools to communicate risks and benefits of immunization, address vaccine myths and misinformation, and empower patients to make informed decisions on their vaccine needs. 
ACP Resources
Poster on the importance of vaccines for older adults
E-mail template for practices to use to encourage patients to get up-to-date with routine immunizations
CDC Resources
Immunization Action Coalition (IAC) Resources
Access resources to promote health equity and identify strategies to increase adult immunization rates with specialized training in understanding the barriers to immunizing adults in racial and ethnic minorities.
Access resources to better understand your immunization data as well as the immunization information system (IIS) within a given geographical area.
CDC Immunization Information Systems (IIS) - Resources to meet physicians' IIS needs
IIS Customizable Brochure - This colorful brochure is targeted at healthcare providers with adult patients to encourage them to onboard and use Immunization Information Systems (IIS). This is a "customizable" brochure into which any state/city health department may insert their own name and logo.
Basics of IISs (Immunization Information Systems) infographic - An overview of how IISs support and connect patients/consumers, health care professionals, and public health. This downloadable PDF provides a simple visual introduction to how IISs work for people who may not be familiar with IISs, such as policy makers, health care professionals, patients, parents, and even public health staff.
I Raise the Rates Newsletter Sign-up: Complete the following form to receive a digital copy of the I Raise the Rates monthly newsletter developed in partnership with the New Jersey Immunization Network (NJIN).
Join the ACP Advance: I Raise the Rates Virtual Community to engage with your peers who are also engaged in increasing adult immunization vaccination coverage, share best practices, lessons learned and stay up to date on new adult immunization resources and ACP's efforts to increase adult immunization rates.
Previous support for the I Raise the Rates program was provided by Pfizer.

ACP's I Raise the Rates Program is supported by the Centers for Disease Control and Prevention of the U.S. Department of Health and Human Services, GlaxoSmithKline and Merck & Co., Inc and Sanofi Pasteur, Inc.