You are here
Adult Immunization
Adult Immunization
ACP Advance: I Raise the Rates initiative provides important resources as well as vaccine information to help clinicians increase adult immunization in their practices.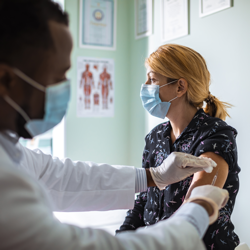 This resource hub was developed as part of ACP's I Raise the Rates initiative to assist physicians and their teams to assess, understand and improve adult immunization rates and patient outcomes in their clinical settings.
I Raise the Rates is a collaborative, data-driven campaign to support patients, physicians, health care teams, systems, and communities in raising adult immunization rates and reducing vaccine preventable diseases. The program seeks to assist interprofessional teams in both understanding the immunization rates of their patients and making practice changes that promote immunizations and reduce disparities.
ACP's I Raise the Rates Program is supported by the Centers for Disease Control and Prevention of the U.S Department of Health and Human Services, GlaxoSmithKline and Merck & Co., Inc.
Previous support for the I Raise the Rates program was provided by Pfizer and Sanofi.
---
Raising Flu Vaccination Rates
In these short videos, clinicians share why they get the flu vaccine, why they recommend it to their patients, the best reasons to get vaccinated, and the importance of flu vaccine during the COVID-19 pandemic.
---