You are here
Adult Immunization
Adult Immunization
ACP's I Raise the Rates Initiative provides important resources as well as vaccine information to help physicians increase adult immunization in their practices.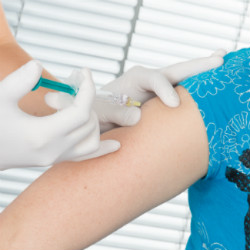 This resource hub was developed as part of ACP's I Raise the Rates initiative to assist physicians and their teams to assess, understand and improve adult immunization rates and patient outcomes in their clinical settings.
I Raise the Rates is a collaborative, data-driven campaign to support patients, physicians, health care teams, systems, and communities in raising adult immunization rates and reducing vaccine preventable diseases. The program seeks to assist internists and other primary care providers in both understanding the immunization rates of their patients and making practice changes that promote immunizations. Learn More
Funding for the I Raise the Rates program was made possible by Center for Disease Control and Prevention (CDC), GlaxoSmithKline, Merck & Co., Inc., Pfizer, Inc. and Sanofi Pasteur Inc.
---
The Importance of Increasing Adult Immunization Rates
In these short videos, clinicians discuss the importance of increasing adult immunization rates and why they are excited
to be part of the American College of Physicians' I Raise the Rates Program to increase adult immunization rates.
---
Wondering Where to Start?
Take this practice assessment survey to assist you in pinpointing key areas for improvement in your clinical setting and identifying strategies to increase your adult immunization rates.
---
Raising Adult Immunization Rates — Using Routine Vaccination to Prepare for COVID-19
Date: Thursday, November 19, 2020
Time: 12 to 1 p.m. ET
Adult immunization rates dropped during the COVID-19 pandemic as patients and health care professionals delayed in-person visits for routine care based on national health guidance. Influenza season presents an important opportunity to vaccinate not only with flu vaccine, but other routine adult vaccinations in both medical offices and pharmacies. Focusing on vaccination processes will not only protect patients but provide a test run for safely delivering and administering an eventual COVID-19 vaccine. This webinar will cover:
Age-related decline in immunity;
Vaccine recommendations for older adults; and
Practical strategies to support a strong recommendations for vaccines, including ways to address common questions or hesitancy
Presented by:
Stephan L. Foster, PharmD, Captain (Retired), USPHS
Steven Peskin, MD, MBA, Horizon Blue Cross Blue Shield of New Jersey
Elie Saade, MD, University Hospitals of Cleveland
This program was jointly developed by the Gerontological Society for America (GSA), the American College of Physicians (ACP), and the American Pharmacists Association (APhA) with support from GlaxoSmithKline (GSK).
This webinar is free for everyone.