You are here
Advocacy
Advocacy
Update from MI-ACP Health and Public Policy Committee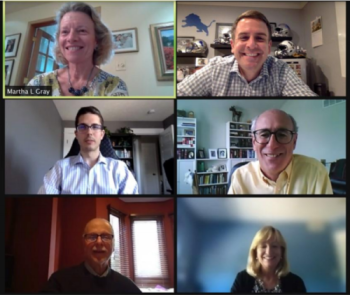 The Michigan Chapter Team for DC Leadership Day was a virtual success thanks to Drs. Jayne Courts, Bob Bloom, Mike Kern, Mark Lindley, and especially thanks to Tudor Moldovan, our medical student who had the best stories and the most convincing messages on student debt, residency position shortages, burnout, and pharmacy prices. We met all day on Wednesday March 26, 2021, with staff of our two Senators; Stabenow and Peters and six Congress members; Dingell, Lawrence, Moolenaar, Meijer, Levin, and Walberg. It was a long day, but it went fast, and we were able to voice policy concerns from ACP National and connect them with Senate and House bills to share support or help shape changes for our patients in Michigan. Hopefully, we will continue this process as we 'left behind' talking points and contact information.
For those of you interested in Advocacy this is a great way to get started. Plan to join our Chapter Health and Public Policy Committee led by Jayne Courts MD, and join us next May 2022, in Washington DC for Leadership Day. Our Chapter is also planning to jump start a State Leadership Day and virtual meetings work well for this type of policy discussion. Stay tuned and join us as we discuss launching a State Leadership Day during this next year.
2022 Health Policy Internship Program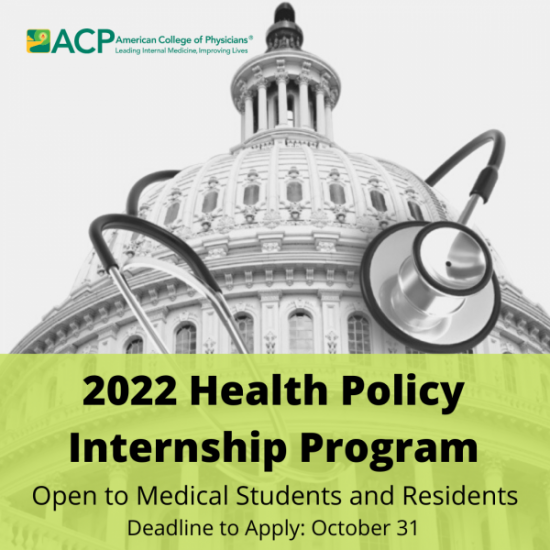 ACP is now accepting applications from medical students and residents for the 2022 Health Policy Internship Program, which will take place May 2 through May 27, 2022. The ACP Health Policy Internship provides a multifaceted opportunity to learn about the legislative process, health policy, and advocacy in organized medicine.
One resident/fellow and one medical student will be selected to work in ACP's Washington, DC office with Governmental Affairs and Public Policy staff. The application closes on October 31, 2021. For more information about the program, please visit Health Policy Internship Program or contact Josh Serchen at jserchen@acponline.org with any questions.
---
Call for Resolutions
Spring 2022 Board of Governors Meeting
Are you concerned about a practice or clinical issue or have an idea you'd like to suggest? If so, you might consider submitting a resolution to your Governor or chapter council.
Initiating a resolution provides ACP members an opportunity to focus attention at the ACP national level on a particular issue or topic that concerns them. Participating in the Board of Governors resolutions process provides the ACP grassroots member a voice and allows you to shape College policy that impacts the practice of internal medicine. When drafting a resolution, don't forget to consider how well it fits within ACP's Mission and Goals. In addition, be sure to use the College's Priority Themes to guide you when proposing a resolution topic.
Not sure how to begin drafting a resolution? Researching the College's position on an issue can give you a start. Visit the ACP Online homepage and click the "Advocacy" link in the right-hand, top margin to access ACP policy positions, read about recent ACP advocacy activities, or search ACP's library of policies and recommendations. You also have access to the Electronic Resolutions System (ERS) where you can search past or proposed resolutions. A copy of the resolutions process is available on the ERS, which furnishes more details on formatting resolutions, as well the process for submission, review, and approval.
Members must submit resolutions to the Governor and/or chapter council. A resolution becomes a resolution of the chapter once the chapter council approves it. If effecting change interests you, the deadline for submitting new resolutions to be heard at the Spring 2022 Board of Governors Meeting is October 4, 2021.
Share your good idea with us. Draft a resolution.
---
ACP Advocacy Resources
Where the College Stands on key health policy issues, news and recent policy changes.
Visit Legislative Action Center for more information about the new Advocates for Internal Medicine Network (AIMn) and the Richard Neubauer Advocate for Internal Medicine Award.