You are here
Advocacy
Advocacy
Update from MI-ACP Health and Public Policy Committee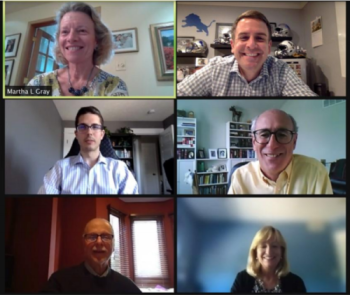 The Michigan Chapter Team for DC Leadership Day was a virtual success thanks to Drs. Jayne Courts, Bob Bloom, Mike Kern, Mark Lindley, and especially thanks to Tudor Moldovan, our medical student who had the best stories and the most convincing messages on student debt, residency position shortages, burnout, and pharmacy prices. We met all day on Wednesday March 26, 2021, with staff of our two Senators; Stabenow and Peters and six Congress members; Dingell, Lawrence, Moolenaar, Meijer, Levin, and Walberg. It was a long day, but it went fast, and we were able to voice policy concerns from ACP National and connect them with Senate and House bills to share support or help shape changes for our patients in Michigan. Hopefully, we will continue this process as we 'left behind' talking points and contact information.
For those of you interested in Advocacy this is a great way to get started. Plan to join our Chapter Health and Public Policy Committee led by Jayne Courts MD, and join us next May 2022, in Washington DC for Leadership Day. Our Chapter is also planning to jump start a State Leadership Day and virtual meetings work well for this type of policy discussion. Stay tuned and join us as we discuss launching a State Leadership Day during this next year.
Save the Date: State Health Policy Networking Webinar
Monday, January 24, 2022 | 3:00 - 4:30 PM ET
Please plan to participate in ACP's State Health Policy Networking Webinar.
This webinar is designed to help ACP members, and chapters specifically, understand and prepare for upcoming issues at the state level that are expected to impact internal medicine physicians, their practices and patients, and other key health issues as well.
---
ACP Advocacy Resources
Where the College Stands on key health policy issues, news and recent policy changes.
Visit Legislative Action Center for more information about the new Advocates for Internal Medicine Network (AIMn) and the Richard Neubauer Advocate for Internal Medicine Award.