You are here
Meetings and Events
Meetings and Events
---
Zoom Series
The Maryland ACP committees have been very busy with ensuring that we use our new "norm" to give some benefits to our membership. We will be hosting a ZOOM presentation every six weeks that will be available for live attendance as well as providing links on our chapter website. Check out the first one on ARDS and Hyponatremia!
---
Zoom Meeting: Racism and Lack of Diversity in Healthcare
December 3
Please see the flyer for info and registration.
---
---
2021 Chapter Annual Virtual Scientific Meeting - Save the Date!
January 29-30
Stay tuned for details!
Please contact Maryellen Woodward with questions.
---
Please view the Chapter Abstract Competition page for the list of abstract winners and their abstracts. Please contact Maryellen Woodward with questions.
---
Study Request
The University of Maryland School of Medicine Center for Vaccine Development and Global Health is conducting a post-exposure prophylaxis study on hydroxychloroquine. Please see their letter for details.
Important Note: We are making this info available for your information and individual assessment of interest in participating. ACP Maryland Chapter is not suggesting that you should encourage your patients to participate. Participation would be completely voluntary and the ACP Maryland Chapter will not know whether you do or do not participate.
---
---
Chapter Committees Working Together
The chapter held a Paint Nite in January. We will do events like this again! Please see the article for details and photos of this very fun and collegiate event.
---
Maryland Chapter Receives 2020 Chapter Excellence Award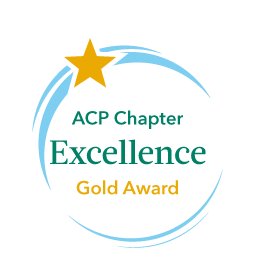 We are pleased to announce that our chapter is in receipt of the Gold Level of the 2020 Chapter Excellence Award! The award recognizes truly extraordinary chapters that surpass excellence in chapter management. We are in the company of 32 other outstanding chapters. In order to achieve the Gold Level of the Chapter Excellence Award, chapters must meet twenty-one Bronze criteria, fifteen Silver criteria and multiple Gold level activities. Criteria include such activities as having a legislative action plan or agenda, holding a volunteerism/community service activity, holding multiple stand-alone meetings, having revenue sources outside of dues and meeting registration fees, implementing a strategic plan, implementing a formal recruitment and retention plan and measuring outcomes, conducting various activities for Medical Students, Residents and Early Career Physicians. I would like to extend a special thanks to those chapter members who assisted us in all of these endeavors! For their hard work and dedication, we received this award.
---
News
Join the Chapter's Diversity Committee!
Ambulatory Practice Patient Family Engagement
Maryland Primary Care Program Update
Prescription Drug Monitoring Program (PDMP) Updates
CMS Region III Upcoming Webinars for the Quality Payment Program
---
---
Thanks for attending. Take a few moments to view photos from the meeting and plan to join us next year!
Presentations from the 2020 Chapter Meeting
Claim Your CME credits from the Maryland Chapter 2020 Scientific Meeting
Claim Your MOC points from the Maryland Chapter 2020 Scientific Meeting - Note: Points must be claimed by December 31, 2020.
---
Back to the Bedside: A Call to Arms
Presentation by Jack Ende, MD, MACP
2020 Richard B. Williams Medical Student Conference Recap
2020 Richard B. Williams Medical Student Conference Photos
Didn't make the event, or want to relive the fun moments? Take a few minutes to view photos from this successful event.
---
Regional Provider Meetings for Primary Care
Maryland Primary Care Program Link
---
---
---
Past Chapter Events
Recap: How to Successfully Negotiate a Contract
Physician Wellness and Combating Burnout Dinner Meeting
Medical Student Bowling Social
What a great way to relax and enjoy your colleagues! Take a moment to learn what happened at the medical student bowling social.
2020 Nuts & Bolts" for Poster/Abstract Writing Presentation for Residents and Medical Students
This was a great event, and thanks to all who participated!
Recap on Workshop on Creating Abstract Presentations
News
Learn about CRISP, Maryland's state designated health information exchange (HIE)
Student Committee Video on Community Physicians in Internal Medicine
The Chapter's Medical Student Committee developed a wonderful video highlighting some of our ACP members who work in the community and the various facets and opportunities in Internal Medicine. Please take a few moments to read about it.
Governor's Newsletters Archive
Follow us on Twitter!