You are here
News & Meetings
News & Meetings
2022 LA Chapter Meeting
Information to Come!
For questions, please contact contact Sarah Wardrop via email laacpchaptermeeting@gmail.com
---
Past Meeting Information
2021 LA Chapter Meeting
2021 Virtual Meeting Recorded Meeting Available for Purchase Here
Already Registered? Access the Virtual Meeting
Abstract Competition
Resident Abstract Booklet
Medical Student Abstract Booklet
Congratulations to the 2021 Student & Resident Chapter Meeting Poster Competition Winners!
Winner Listing
2020 LA Chapter Meeting
2020 Chapter Meeting Presentations and Photos
Abstracts-Posters Published in LSMS Journal
---
Advocacy
LA ACP Opposes HB 13 49
HB 13 HB 49 Analysis-Talking Points
---
Louisiana Chapter Receives 2020 Chapter Excellence Award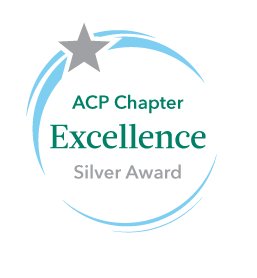 We are pleased to announce that our chapter is in receipt of the Silver Level of the 2020 Chapter Excellence Award! Only 18 chapters received the Silver Award. The award recognizes chapters that achieve excellence in chapter management. In order to achieve the Chapter Excellence Award, chapters must meet twenty-one Bronze criteria and fifteen Silver criteria. Criteria include such activities as undertaking efforts to increase advocacy efforts, collaborating with stakeholders to increase visibility of the ACP, holding competitions for members, providing chapter financial reports to members, having Medical Student and Resident/Fellow members on the Governor's Advisory council, retaining transitional and unpaid members, giving awards to chapter members. I would like to extend a special thanks to those chapter members who assisted us in all of these endeavors! For their hard work and dedication, we received this award.
---
News
Governor's Newsletters
[April 2020 - December 2017 | January 2017]