You are here
News & Meetings
Kentucky Chapter Wins a 25th Anniversary John Tooker Evergreen All-Star Award

To celebrate the 25th anniversary of the John Tooker Evergreen Awards Program, the Evergreen All-Star Awards recognizes the Kentucky Chapter program, Associates Program ("Shakertown"). The program has contributed to the strength and breadth of ACP and its chapters, and demonstrated sustainability through successive leadership terms.
---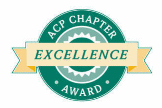 Kentucky Chapter Receives 2017 Chapter Excellence Award
The award recognizes chapters which successfully meet the standards for managing a chapter. In order to achieve the Chapter Excellence Award, chapters must meet all basic criteria and ten optional criteria. Criteria include such activities as formulating an effective Governor's Council and committees, communicating frequently with membership, providing educational opportunities, recruiting and advancing members and celebrating membership through local awards.
---
Thank You for Attending! - 2017 Annual Chapter Scientific Meeting
For information about this meeting and future meetings, please contact Megan Wilson.
---
Governor's Newsletters & Communications
Governor's Newsletters
September 2016
May 2016
February 2015
May 2014
April 2014
Chapter Communications
1-10-14: ACP Possible participation in new grant project for ACO and PCMH practices