You are here
About the Chapter
About the Chapter
Governor

Ruth E. Weissberger, MD, FACP
Dr. Weissberger serves as the official representative of the College for the Connecticut Chapter, providing a link between members at the local level and leadership at the national level. To learn more about Dr. Weissberger, read her bio.
Welcome Letter | Past Governors | By-Laws | Diversity Policy
Mission
Empowering Connecticut Internists to improve the health of their patients and communities by promoting their professional satisfaction and development.
2020-2021 Officers and Committees
Officers:
Ruth Weissberger, Governor
Steve Angus, Treasurer
Rebecca Andrews, Immediate Past Governor

Committee Chairs:
Inginia Genao, Chair, Diversity; Co-Chair, Program Planning
Diana Sewell, Co-Chair, Program Planning
Ben Cherry, Chair, Health and Public Policy
Anthony Yoder, Co-Chair, Health and Public Policy
Eric Mazur, Chair, Awards and Nominations
Rosemarie Fisher, Co-Chair. Membership, Awards and Nominations
Daniel Tobin, Chair, Resolutions
Sarita Soares, Co-Chair, ECP
Angie Kang, Co-Chair, ECP
Shaheena Shan, Chair, Resident/Fellow Members
Sujata Prasad, Practice Satisfaction/Physician Wellness
---
Awards
Congratulations 2021 Chapter Awardees
Our 2021 Chapter Awardees were recognized at the Annual Chapter Meeting in Fall 2021.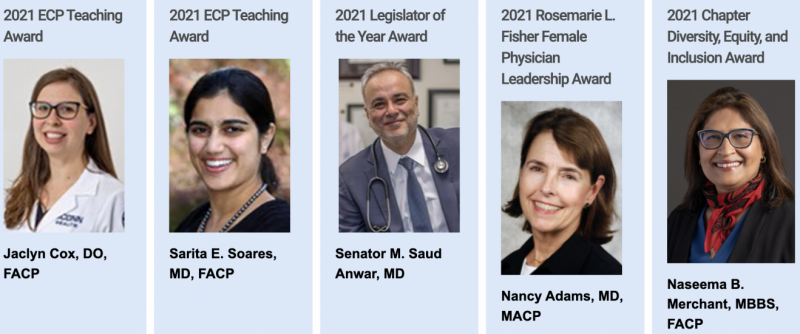 Award Archives
About the Awards | Past Awardees | Chapter Awards
---