You are here
News & Meetings
News & Meetings
Meetings
2021 Colorado Chapter Virtual Scientific Meeting - February 4-February 6, 2021
Registration and Meeting Information
Access the Virtual Meeting (Meeting Begins on February 4th)
Forest for the Trees Call for Submissions
---
2020 Resident/Fellow Virtual Abstract Competition
Oral Presentations:
FIRST Place Winner - Pedro Giro, University of Colorado, Longitudinal Study of Hemodynamic Parameters Prior to and Following LVAD Implantation
Second Place - Rachel Kubowicz, St Joseph Hospital, Another Obscure 3 Letter Diagnosis
Third Place - Matthew Rockstrom, University of Colorado, High Volume Plasma Exchange in Acute Liver Failure Following Acetaminophen Toxicity
Poster Presentations:
FIRST Place Winner - Karl Greenblatt, University of Colorado, An Uncommon Clue to the Diagnosis of Multiple Myeloma
Second Place - Leah Wells, St Joseph Hospital, Contrast Induced Sialadenitis: A Benign Reaction
Third Place - Andrea Keiffer, Sky Ridge, ANCA-Associated Vasculitis and Systemic Manifestations With Volatile Solvent Exposure
---
Thank you for attending the 2020 Colorado Chapter Meeting
2020 Meeting Presentations
2020 Resident Abstract Booklet
---

Logo Contest Winner: Ajay Major - University of Colorado Internal Medicine Residency Program
---
Chapter News
Colorado Chapter Receives 2020 Chapter Excellence Award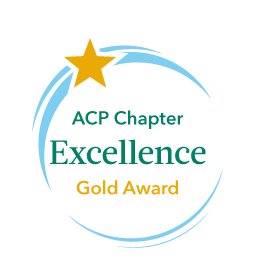 We are pleased to announce that our chapter is in receipt of the Gold Level of the 2020 Chapter Excellence Award! The award recognizes truly extraordinary chapters that surpass excellence in chapter management. We are in the company of 32 other outstanding chapters. In order to achieve the Gold Level of the Chapter Excellence Award, chapters must meet twenty-one Bronze criteria, fifteen Silver criteria and multiple Gold level activities. Criteria include such activities as having a legislative action plan or agenda, holding a volunteerism/community service activity, holding multiple stand-alone meetings, having revenue sources outside of dues and meeting registration fees, implementing a strategic plan, implementing a formal recruitment and retention plan and measuring outcomes, conducting various activities for Medical Students, Residents and Early Career Physicians. I would like to extend a special thanks to those chapter members who assisted us in all of these endeavors! For their hard work and dedication, we received this award.
Governor's Newsletters
[January 2021 - October 2020 - June 2020 - March 2020 - October 2019 - July 2019 - October 2018 - March 2018 ]
Governor's Newsletters Archive
Chapter Communications
3-18-20: COVID-19 Call to the Public and Measures to Support Healthcare Workers
3-19-19: Support for ACP's I Raise the Rates initiative is provided by (CDC)
2-20-19: ACP Colorado Chapter Governor Change
11-14-18: Wellness Survey - Please complete by December 1, 2018
9-27/18: Call For Early Career Physicians Award Nominations - Deadline - October 19, 2018​
10-2-18: Early Career Physicians Meeting - October 17, 2018​
4-24-18: Colorado Primary Care Bill

Chapter Communications Archive