You are here
News & Meetings
2018 Arkansas Chapter Reading Retreat
April 7-8, 2018
Red Apple Inn
Eden Isle, Herber Springs, Arkansas
Registration Now Open!
---
Spring 2018 Resolutions: Your Feedback requested
We would like to request your feedback regarding the 23 resolutions that will be heard at the 2018 Spring Board of Governors Meeting. After considering the intent of each resolution and how it fits with the College's Mission and Goals, please send your comments indicating whether or not you support a resolution by e-mailing the chapter.
---
2018 Arkansas Chapter Scientific Meeting
Information to Come!
For more information, contact Colleen Keeku
---
2017 Chapter Excellence Award Winner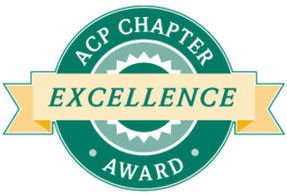 Our chapter is in receipt of the 2017 Chapter Excellence Award! The award recognizes chapters which successfully meet the standards for managing a chapter. In order to achieve the Chapter Excellence Award, chapters must meet all basic criteria and ten optional criteria. Criteria include such activities as formulating an effective Governor's Council and committees, communicating frequently with membership, providing educational opportunities, recruiting and advancing members and celebrating membership through local awards. A special thanks to those chapter members who assisted in all of these endeavors! For their hard work and dedication, the Arkansas Chapter received this award.
---
2017 Arkansas Chapter Scientific Meeting
Meeting Presentations
Access the 2017 Meeting Presentations
---
Leadership Day 2017
View the Photo Album
---
Arkansas Chapter 2017 Internal Medicine Photo Album
View the Photo Album
---
2016 Arkansas Chapter Scientific Meeting
View 2016 Meeting Presentations
Meeting Photos: View our Award Winners and Chapter Meeting Poster Session
---
I Raise the Rates Program
I Raise the Rates June 2017 Newsletter
A letter from the Arkansas Chapter Governor
---
Arkansas Chapter Social Media
---
Governor's Newsletters & Communications
Chapter Communications