You are here
News & Meetings
2018 Alabama/Mississippi Chapter Meeting
June 1-3, 2018
Brochure
Register for the Meeting!
Claim CME
Claim MOC
*CME and MOC will be available at noon on the last day of the meeting.
---
Thank you for attending! - 2017 Alabama & Mississippi Chapters' Meeting
Claim CME
E-mail Christi Long with any questions.
---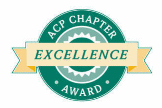 Alabama Chapter Receives 2017 Chapter Excellence Award
The award recognizes chapters which successfully meet the standards for managing a chapter. In order to achieve the Chapter Excellence Award, chapters must meet all basic criteria and ten optional criteria. Criteria include such activities as formulating an effective Governor's Council and committees, communicating frequently with membership, providing educational opportunities, recruiting and advancing members and celebrating membership through local awards.
---
Governor's Newsletters
Governor's Newsletters Archive
Chapter Communications
11-8-16: Literature and Medicine Retreat
12-3-15: Literature and Medicine Retreat