You are here
News & Meetings
News & Meetings
Meetings
2021 Alabama & Mississippi Chapters Scientific Meeting - June 10-13
MSU Riley Center - Meridian, MS
Access the Meeting Hub - Meeting information and Registration
---
Chapter News
Alabama Chapter Receives 2020 Chapter Excellence Award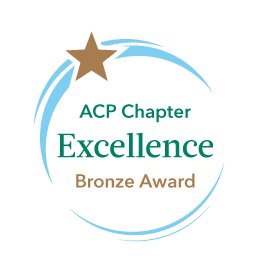 We are pleased to announce that our chapter is in receipt of the Bronze Level of the 2020 Chapter Excellence Award! The award recognizes chapters that achieve basics in chapter management. In order to achieve the Chapter Excellence Award, chapters must meet twenty-one Bronze criteria. Criteria include such activities as being involved in advocacy activities, communicating with members, having a chapter/regional scientific meeting along with a planning committee, having a sound financial structure in place, recruiting and advancing members and having an awards committee that identifies candidates for local or national awards. We would like to extend a special thanks to those chapter members who assisted us in all of these endeavors! For their hard work and dedication, we received this award.
Alabama ACP Members Selected for National Award, Masterships
Jefferson Underwood III, MD, FACP receives the 2020 Laureate Award
Former Governor wins prestigious award
---
Governor's Newsletters
July 2020
January 2020
August 2019
Governor's Newsletters Archive
Chapter Communications
4-5-20 - Checking in with you on COVID in Alabama
3-25-20 - Where Are We Now? COVID19 Update + Resources
3-23-20 - CANCELLED: Alabama/Mississippi Chapters Scientific Meeting
3-23-20 - Governor's message on COVID-19: support for you
10-3-19 - Virtual QI chronic pain leadership training program
6-11-19 - Don't miss this page turner...save the date!