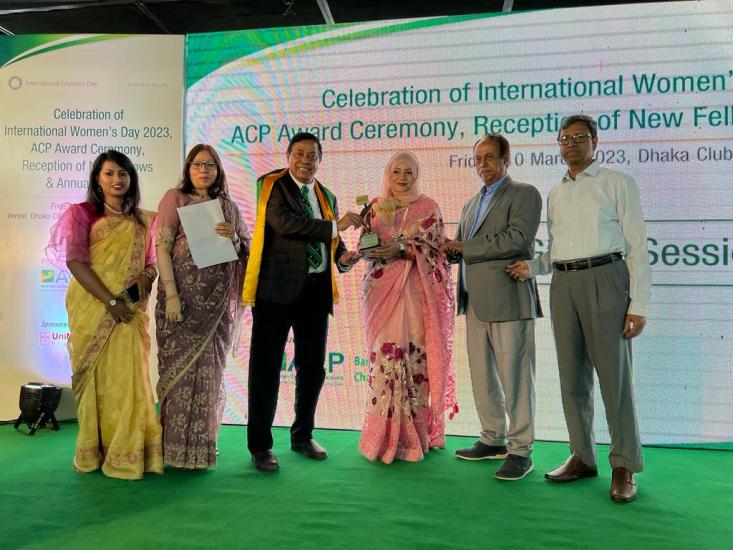 Upcoming Meetings
22nd Bangladesh Society of Medicine International Congress and Scientific Seminar 2023 
March 17-19, 2023 
Held at the Radisson Blu Dhaka Water Garden, we hope to see you at the Bangladesh Society of Medicine and ACP Bangladesh Chapter's Annual Meeting. The meeting will take place over 3 days.
Highlights include: 
Point of Care Ultrasound for Early Career Physicians 
Research Paper Sessions
Round Table Policy Dialogue 
Small Feedings of the Mind 
Symposia on Rheumatology, Nephrology, Women's Health, Tropical Medicine, Medical Education and Clinical Practice, and Environmental Medicine and Climate Change
For more information, click here. 
Registration is open from February 11-28, 2023 and is free-of cost! Submit your abstract submission by February 28, 2023. All registrations must occur in-person. 
---
Past Meetings

Reception of New Fellows and Annual Dinner 
Calling all Masters, Fellows, and Members! Thank you for attending our Chapter's Reception of New Fellows and Annual Dinner held on March 10, 2023 at 6:00 p.m.. This event was held on World Women's Day at the Dhaka Club. 
Pre-registration is required at: https://acpbd.org/index.php/register
Bangladesh Chapter Scientific Meeting
December 3-4, 2021
Asian ACPCon (Bangladesh, India, Japan and Saudi Arabia Chapters)
February 6-7, 2021 | Virtual