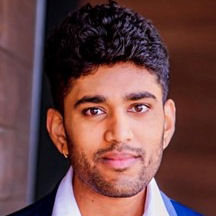 Pranav Mellacheruvu
Member of the ACP Council of Student Members and Health and Public Policy Committee

— MEDICAL SCHOOL —
Washington State University

— GRADUATING CLASS —
2023

"Drop-back pass on a 40-yard post route; receiver runs to the 10, 5…."
The receiver then falls to the ground.
The opposing cornerback rushes over and sees the receiver motionless on the ground. He checks for a pulse and is unsure so he calls over to the bench. Two providers and a student rush over as the athletic director brings out the automated external defibrillator (AED). Pulseless electrical activity is identified and the player is cardioverted successfully back into normal sinus rhythm.
The AED thankfully saved this young, talented receiver's life. After this episode, he was evaluated and treated for a life-threatening arrhythmia and eventually went on to have a successful NFL career. Yet, alarmingly, one high-school–aged athlete suffers a sudden cardiac arrest every 3 days in the United States. In fact, the leading cause of death in young athletes on the playing field is an undetected heart condition. The best way to detect these heart conditions is through heart screening using an electrocardiogram (ECG) and, in some cases, an echocardiogram (ultrasound) of the heart.
In the state of Oregon, per Senate Bill 1033, every school including community colleges must have a well-maintained AED on site. The school must also provide instruction on cardiopulmonary resuscitation and AED use for all students in grades 7 to 12 (1). However, policy on school AED mandates is not the same across states.
In 2000, President Clinton signed the federal Cardiac Arrest Survival Act regarding the placement of AEDs in federal buildings and providing civil immunity for authorized users. The Act appropriated $25 million in local grants to purchase AEDs. We can continue to build on this legislation by expanding beyond federal buildings and appropriating funds at the local level not just in Oregon schools but across the country to have AEDs and training on site.
However, AEDs only fix the consequences of an underlying problem. We need to build a preventative, grassroots effort to ensure that all athletes participating in school-sanctioned activities obtain a thorough cardiac evaluation.
Current incidence studies provide robust evidence from independent data sets that some athlete groups have a substantially higher risk for sudden cardiac death (SCD) than others (2). The typical preparticipation screening for athletes involves asking about familial cardiac issues, obtaining any history of irregular heartbeats and/or chest pain, and conducting a cardiovascular physical examination. But implementing nationwide school ECG screening for athletes as a part of the preparticipation screen remains under debate.
Corrado and colleagues explored the trends in cardiovascular death in athletes before and after implementation of a mandatory nationwide systematic ECG preparticipation examination program. After initiating the program, the annual incidence of SCD in athletes decreased by 89% (from 3.6/100,000 person-years in 1979–1980 to 0.4/100,000 person-years in 2003–2004; P for trend <0.001) (3). Yet, the greatest impediment to ECG screening in U.S. schools remains cost. A nationwide cardiac-screening program involving initially only a history and physical examination is estimated to cost $250 million, excluding the additional testing required for positive screens (10 million high-school and middle-school athletes × $25 for each personal and family history). The addition of a $50 ECG for each screened individual would increase this initial cost to $750 million (4).
As the future generation of physicians, it is our responsibility to present to our nation's legislators that identifying and preventing sudden cardiac death in otherwise healthy athletes across our nation is a priority. Federal appropriations for sudden cardiac arrest prevention should be at the forefront of new health care legislation. Let us make sure that we do not need to catch someone's disease in the nick of time and that a young athlete can step onto the field with a heart full of confidence.
References
An Act SB 1033 Relating to Automated External Defibrillators in Schools; Creating New Provisions; and Amending ORS 431.680 and 431.690. Ch 62, 2010 Special Session (Oregon Laws). 1 January 2011. Accessed at www.oregonlegislature.gov/bills_laws/lawsstatutes/2010orLaw0062.html on 5 March 2022.
Drezner JA, Harmon KG, Asif IM, et al. Why cardiovascular screening in young athletes can save lives: a critical review. Br J Sports Med. 2016;50:1376-1378. [PMID: 27418320] doi:10.1136/bjsports-2016-096606
Corrado D, Basso C, Pavei A, et al. Trends in sudden cardiovascular death in young competitive athletes after implementation of a preparticipation screening program. JAMA. 2006;296:1593-601. [PMID: 17018804] doi:10.1001/jama.296.13.1593
Rao P, Shipon DM. Implementing a cardiac screening program: should we be using an ECG? American College of Cardiology. 26 September 2019. Accessed at www.acc.org/latest-in-cardiology/articles/2019/09/26/07/50/implementing-a-cardiac-screening-program on 5 March 2022.
Back to the May 2022 issue of ACP IMpact