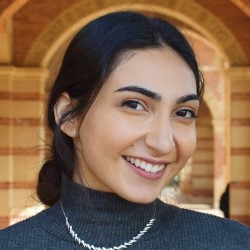 Ikaasa Suri
ACP Council of Student Members

— MEDICAL SCHOOL —
Icahn School of Medicine at Mount Sinai

— GRADUATING CLASS —
2026

Growing up, I immersed myself in computer science because I knew I wanted to spend my life solving problems. However, a few quarters into college and a couple of software engineering internships later, I realized that I was much more passionate about working with and alongside the very people that my products were meant to help. Still, throughout the remainder of my time at UCLA and now as a medical student, I constantly toe the line between my love for engineering and my passion for medicine. In particular, as the daughter of immigrants who left their home country to become part of a larger diasporic community fleeing religious persecution, the main focus of my work has been in discovering how to leverage technology as a means of making health care more accessible, affordable, and equitable for marginalized communities.
However, throughout this journey, I have realized that one community in particular––one of the largest populations here in the United States––has constantly been overlooked in spaces of health care innovation: those impacted by the criminal justice system. With only 5% of the world's population, the United States has nearly 25% of the world's incarcerated individuals. What's more is that within the United States, one in two people have experienced incarceration in their family (1, 2). Given how commonly providers interface with justice-impacted individuals, why have these patients been largely ignored?
This question resurfaced for me after attending a very insightful panel at the ACP Internal Medicine Meeting in April. The panel discussed the internal medicine physician's many roles in caring and advocating for patients involved in the justice system. And from my personal work, as well as the incredible efforts of many ACP Fellows before me, I have gathered that the lack of uniform efforts to address these inequities may be due to the following reasons:
The different faces of care in and outside of carceral settings: For patients in prisons, health care can oftentimes be a very passive process. Instead of having to seek out care on their own, patients are handed their medications at standardized times by prison staff, inherit little responsibility in overseeing their own care, and are provided little opportunity to advocate for themselves. When released, the onus of seeking out health care goes back to the patient with little access to resources, information, or education on how to do so.
Enormous churn in and out of facilities: Most incarcerated individuals will leave prison after their sentence, and for those in shorter-term jails, this turnover rate is even higher. For this reason, the population of incarcerated individuals is by no means static and the continuity of care both in and outside of correctional facilities can be tricky to navigate for patients and providers alike.
Deep mistrust of health care systems and providers: In prisons, providers of care are often heavily linked to or employed by the very systems that are incarcerating these patients. It is often prison staff who will pull the patient aside to take their daily medications. At other times, patients monitor their blood pressure and receive oxygen within their cells—with wires stringing through the gaps between cell bars. It is unsurprising, then, that many currently and previously incarcerated individuals have a deep distrust in, and are traumatized by, the health care systems available to them.
Comparatively fewer resources allocated toward justice-impacted individuals: Perhaps due to the dehumanizing stigma faced by those impacted by mass incarceration, patients who do receive health care inside the walls of prisons and jails are faced with providers limited by short supplies of materials, staff, and time.
However, while these sizable barriers may be the reason many startup founders, innovators, and physicians have leaned away from investing in this space, I believe that technology is the exact tool we need to break them down. For example, telemedicine platforms like Amwell and Teladoc Health have enabled convenient access to health care, particularly for individuals with limited mobility and in remote areas; with the expansion of the appropriate infrastructure in prisons, telemedicine could significantly improve issues related to continuity of care within the context of enormous churn in and out of correctional facilities. At the same time, applications like One Medical Passport have streamlined the patient intake process, removing the burden on patients to keep track of all important documents and improving the overall efficiency of their health care experience. This sort of integration, especially if initiated prior to a patient's release, could help individuals better navigate their care, take charge of their own health, and ease the transition between the different faces of care in and outside of carceral settings.
In addition to applications and platforms that make health care more accessible, the use of wearables, remote monitoring tools, and portable medical devices can play a critical role in ensuring cost-effective health care. For example, the Butterfly Network has developed an affordable, handheld ultrasound that allows providers to perform exams at the point of care itself, expanding access to diagnostic imaging in resource-constrained settings. Similarly, my own startup, Illuminant Surgical, has been working to develop image-guidance platforms for minimally invasive procedures using off-the-shelf hardware to make access to quality surgical care even greater.
However, despite the range of existing health care companies and startups whose intentional efforts could drastically improve access to quality health care in carceral settings, issues related to the deep mistrust of health care systems and providers, digital illiteracy, and lack of infrastructural frameworks for the implementation of novel tools still exist. For this reason, community partnerships, educational initiatives, and policy changes are just as important to the adoption of technology as the development of these tools themselves. This is why programs like the Transitions Clinic Network (a national model that improves reentry outcomes by employing community members to assist people returning from incarceration) and policy changes like the Medi-Cal expansion (implemented earlier this year allowing individuals to enroll up to 90 days prior to leaving prison) are so critical. They make room for startups like Healthify, which connects health care providers to community-based organizations to address social determinants of health; Oak Street Health, which serves dual-qualifying Medicare and Medicaid patients through comprehensive, personalized, and community-based care; and Cityblock Health, which delivers holistic care to bridge the gap between quality health care and those who need it most.
Clearly, there exists much in the way of achieving equitable and quality health care for those impacted by the justice system in the United States. However, through the adoption of technology and advocacy for policies that support the creation and implementation of these tools, I firmly believe that we will be on a path to serve even the most marginalized patients in the American health care system––leaving no patient behind.
References
Giving Compass. Criminal justice. Accessed at https://givingcompass.org/topics/criminal-justice on 31 May 2023.
FAMM. Home page. Accessed at https://famm.org on 31 May 2023.
Back to the June 2023 issue of ACP IMpact