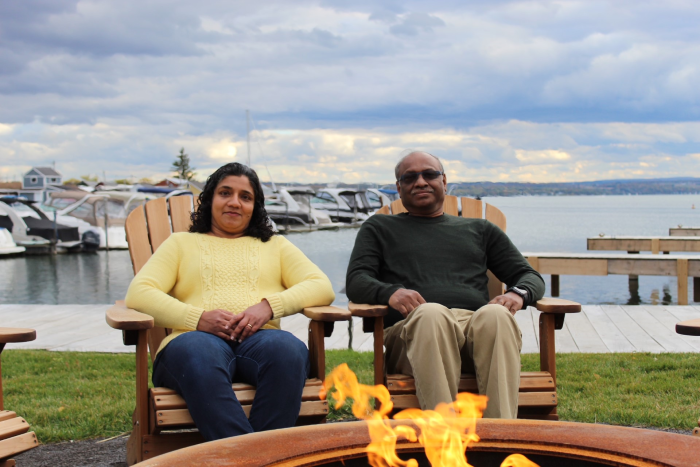 Chalunkal Mathai Mathew MD, MRCP (UK), FACP, CPL
— OCCUPATION —
Hospitalist, Primary Care Physician, and Core Faculty and Adjunct Professor of Medicine, St. Luke's Anderson Campus, Easton, PA

— MEDICAL SCHOOL —
T.N. Medical College, Mumbai, India

— RESIDENCY —
United Kingdom and St. Luke's Hospital, Bethlehem, PA

What is your current position?
I wear various hats: Hospitalist, PCP, and Core Faculty and Adjunct Associate Professor of Medicine at St. Luke's Anderson Campus in Easton, PA. My roles allow me to engage in teaching, mentoring future physicians, and interacting with patients in diverse settings.
Where did you attend medical school and post grad training?
I attended medical school and post grad training in Mumbai, India, for my MBBS and MD degrees. I then pursued further training in the United Kingdom, obtained my MRCP degree, and completed a fellowship program in rheumatology. I was an attending physician in Oman before relocating to the United States and completing another residency at St. Luke's Hospital in Bethlehem, PA. I obtained my certification in physician leadership from the American College of Physicians, with a capstone project on physician burnout.
Why did you choose to become a physician?
Since childhood, I found myself gravitating toward the puzzle-solving aspect of medicine, the challenges it posed, and the opportunity to explore the intricate workings of the human body, ultimately leading me to pursue a career as a physician.
Please describe a typical day in your practice.
I practice both outpatient and inpatient medicine. A typical outpatient day would start at 8:00 a.m. by reviewing the patient schedule for the day and seeing patients, with a mix of new and follow-up appointments, and discussing treatment plans with the patients and the medical residents. At Noon, I attend a conference with the medical residents: this may include lectures, case presentations, or journal club discussions. At 1:00 p.m., I continue seeing patients and responding to phone calls and messages from other health care providers. At 5:00 p.m., I complete documentation and ensure that all patient information is accurately communicated and that all necessary tasks have been completed. Throughout the day, I also attend meetings, participate in quality improvement initiatives, and work on research projects. I also work as an academic hospitalist every 8 weeks. A typical day would involve caring for patients who have been admitted to the hospital as well as teaching and supervising medical students, residents, and fellows.
What field of internal medicine did you select and why?
Primary care physician as it allows me to interact with patients with various backgrounds and health statuses, help them manage a wide range of health issues, and form long-term relationships with them. One of the most satisfying aspects of working as a hospitalist is the intellectual challenge of diagnosing and treating complex medical conditions in a high-pressure environment.
What are some of your special interests professionally?
I have a special interest in preventing burnout among health care providers and promoting physician–resident wellness. In addition, I am passionate about medical education and mentoring the next generation of physicians.
What are your interests and hobbies outside of medicine?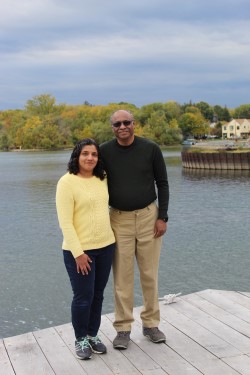 I have a wide range of interests and hobbies that help me maintain balance and stay energized. I am a voracious reader and a big Star Trek fan (hoping to work with a resident who can speak Klingon). I also love to travel and experience different cultures. Learning trivia, walking my two corgis, cooking, and trying new recipes are some of my other favorite pastimes.
What advice would you like to share with medical students or what do you wish someone would have told you while you were in medical school?
Take care of yourself: Medical school can be intense and demanding, but it's important to take care of yourself both physically and mentally. Find ways to manage stress, get enough sleep, eat well, and exercise regularly. Keep an open mind: Medicine is a constantly evolving field. Be willing to embrace new ideas and approaches.
Which living person do you most admire?
Two people: My wife, Dr. Elizabeth Mathew, also a hospitalist, who has been my constant support through thick and thin, and my former mentor and Head of the Department of Medicine at my medical school, Dr. V.R. Joshi. He was not only a skilled clinician but also a compassionate human being and dedicated teacher. Personally, his influence on me was so profound that I named my son after him, and I continue to strive to emulate his qualities of humility and commitment to excellence.
If you could change one thing about yourself, what would it be?
My hairline.
Who is your hero of fiction?
Dr. Leonard McCoy, the chief medical officer in the Star Trek original franchise. Despite being a character in a futuristic science fiction world, he is grounded in compassion and unwavering in his dedication to his patients. His wit and humor (especially his one-liners) often provide a welcome respite from the intense and dangerous situations that he and the Enterprise crew face. What I admire most about him is his ability to remain true to his principles and values, even in the face of adversity.
What is your motto?
"Do what you love and love what you do." When we are passionate about what we do, it gives us the energy and motivation to overcome challenges and to strive for excellence.
Back to the June 2023 issue of ACP IMpact
More I.M. Internal Medicine Profiles