Nearly 400 American College of Physicians members converged on the nation's capital in May for the annual Leadership Day event and urged congressional leaders to take action to protect and support the American health system. Khalid Sheikh, in attendance as one of the 2023 ACP Health Policy Interns, reflected on the importance of learning about the development of health policy as a medical student.
I realized early on in my medical education that almost all of what we medical students were learning focused on only one thing: pure medicine. However, as important as pathophysiology, pharmacology, and anatomy are, real patients' challenges are not solved by knowing medicine alone. Electronic medical records, insurance, billing, and access are all essential components of the patient–physician experience. Even though a patient's diabetes may be treated with insulin, what happens when she can't afford it? What happens when a patient needs a stroke workup but is undocumented and uninsured? These are questions that I encountered as a third-year medical student and I realized that medicine was not enough to address them. There was something missing: health policy.
Health policy shapes every aspect of patient care. I applied to be an ACP Health Policy Intern because I wanted to understand how physicians are able to use their voices to shape the policy that affects their patients. I had worked on developing some policy as a student for the American Medical Association, but I otherwise had little experience working in a policymaking space. The experience has been even better than I imagined.
From day 1, ACP threw me into the process along with the other intern, Kristy. We sat down and spoke with the teams that develop ACP health policy, the lobbyists who speak to members of Congress, and the regulatory team that goes over new regulations with a fine-toothed comb. Within the first week, we were sitting in a Senate committee hearing and seeing firsthand how senators gather the information they need to develop opinions on topics that directly affect physicians and their patients, such as the price of insulin. This has been both a learning and a teaching experience for me. Not only am I learning about how policy is created, advocated for, and voted on, but I also get to share my experiences in the hospital and with patients to those who are working here in Washington, DC. I have also met established physicians who manage to have full practices and also serve on different ACP committees to shape policy. This experience has cemented my belief that good patient care can take place in many settings—the clinic, the hospital, and even the Capitol.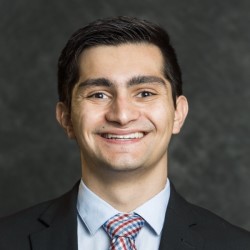 Khalid Sheikh
The University of Texas Rio Grande Valley
Graduating Class of 2023
Back to the June 2023 issue of ACP IMpact