Test your medical knowledge each month with questions from The Medical Knowledge Self-Assessment Program® (MKSAP).

MKSAP has been trusted by internists since 1967 as the best resource for updating knowledge. MKSAP 19, available in Complete, Digital, and Print packages, consists of 11 comprehensive text chapters with related multiple-choice questions. You'll find 1,200 completely new questions to help you identify learning gaps, stay current, and gain the knowledge you need to provide the best possible patient care. MKSAP 19's original and high-quality questions evolve out of case studies and patient scenarios based on the latest evidence.
For more information on MKSAP 19, or to order your copy, visit mksap19.acponline.org.
MKSAP 19 Q & A
A 50-year-old man is evaluated for pain, swelling, tenderness, and redness of the right great toe that began last night. He has had several similar episodes over the past 2 years. He has type 2 diabetes mellitus and a recent diagnosis of deep venous thrombosis. Current medications are apixaban, metformin, and rosuvastatin.
On physical examination, the right first metatarsophalangeal joint is tender, red, warm, and swollen.
Laboratory evaluation reveals a serum urate level of 9.0 mg/dL (0.53 mmol/L).
Radiograph of the right foot is shown.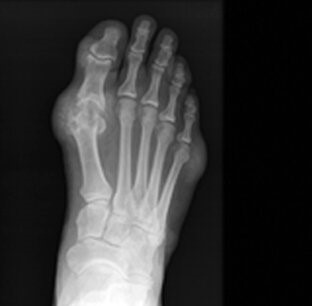 Which of the following is the most appropriate initial treatment?
A: Allopurinol
B: Colchicine
C: Indomethacin
D: Prednisone
Back to the June 2023 issue of ACP IMpact