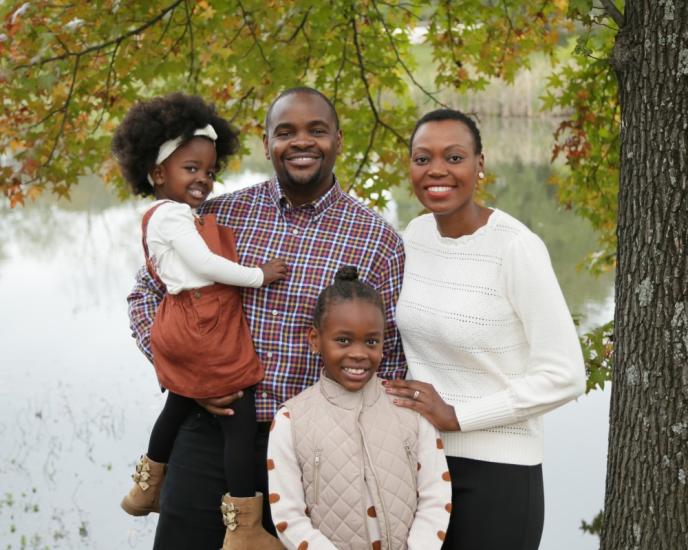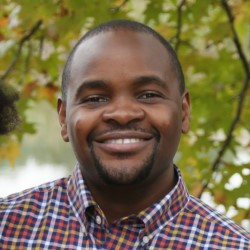 Gilbert-Roy Kamoga, MD, FACP, CPE
— OCCUPATION —
Internal Medicine Residency Program Director (Community Program) at White River Health, Batesville, AR

— MEDICAL SCHOOL —
Mbarara University of Science and Technology in Mbarara, Uganda

— INTERNAL MEDICINE RESIDENCY —
University Hospitals Case Medical Center/Case Western Reserve University in Cleveland, OH

What is your current position?
I am the Internal Medicine Residency Program Director (Community Program) at White River Health in Batesville, AR.
Where did you attend medical school and post grad training?
I attended Mbarara University of Science and Technology in Mbarara, Uganda for medical school and attended University Hospitals Case Medical Center/Case Western Reserve University in Cleveland, OH for my internal medicine residency.
Why did you choose to become a physician?
I wanted to connect with and care for people, help them feel better when ill, and guide them on how to live healthy lives. My version of "saving lives."
What field of internal medicine did you select and why?
I am a traditional internal medicine physician, which implies that I see both inpatients and outpatients. This is my preferred practice model, though it is becoming rare. I, however, spend more time as a hospitalist. Seeing both hospitalized and clinic patients offers me the ability to connect with my patients at a granular level. It allows me to view health more holistically and try to understand the varying determinants of health for the population I serve.
Please describe a typical day in your practice.
Well, my clinical practice often depends on what clinical responsibility I have on a particular day. On my days as a hospitalist, I start at 7 a.m., review my patients' cases on the computer, and focus on those who are critical (ICU), then those who are to be discharged. I then meet with the residents and "round" on the patients. Over the Noon hour, I am involved in educational activities for the residents. During the afternoon, I do my documentation, revisit certain patients, do small group learning for mostly my interns, see new admissions, and review all patients intermittently with the residents. My day ends at about 7 p.m. most days. When I am in the clinic, my day starts at 8 a.m., and I precept the residents who are seeing their patients in the clinic, teaching and reviewing their plan of care and follow-up. We break for Noon didactics and resume the clinic in the afternoon until about 5 p.m.
What are some of your special interests professionally?
Medical education and training are dear to my heart. I believe helping impart the values of patient-first medicine to the next generation of physicians will transform the health care industry. I also enjoy leadership challenges and the business of medicine.
What are your interests and hobbies outside of medicine?
I enjoy travel. The most significant limitation here is time and cost. Seeing the world is my dream, and learning about all of the different cultures, traditions, architecture, and history—and people's way of life—is simply fascinating.
On a more day-to-day note, I enjoy golf (even though I am horrible at it), spending time with my family (wife and two kids), and watching action movies.
What advice would you like to share with medical students or what do you wish someone would have told you while you were in medical school?
Remember why you chose medicine and stick to it as the core value driving your love for it. Find your strength and work hard to get good at it.
Which talent would you most like to have?
I wish I was a linguist. Being able to speak numerous languages well is a gift. It enables one to connect with people and earn their trust.
What is your most treasured possession?
Contentment. For some unclear reason, I have figured out how to be satisfied with life's blessings without developing complacency. I wish I could spread this like the plague. It would bring a lot of joy to the world.
Who is your hero of fiction?
The Flash (DC Comics TV version on CW and Netflix), played by Grant Gustin. He loves with all of his heart and genuinely desires to help people; even though he doesn't always win, he never gives up and he stays true to his values. He always takes ownership of his misjudgments or errors and apologizes.
What is your motto?
Work hard, play hard!
Back to the January 2023 issue of ACP IMpact
More I.M. Internal Medicine Profiles