You are here
Chapter News
Chapter News
We Request Your Feedback on the Proposed Fall 2022 Board of Governors Resolutions
(August 2022) We would like to request your feedback regarding resolutions that will be considered at the Fall 2022 Board of Governors Meeting. The resolutions have been posted on ACP Online for your review and cover an array of topics such as supporting paid sick leave for U.S. workers, covering insulin pumps under CMS Part B for insulin dependent diabetics, and integrating a health equity framework into methods for developing ACP clinical guidelines.
After considering the intent of each resolution and how it fits with the College's Mission and Goals, please provide your feedback on each resolution and indicate your support or opposition by completing the electronic response form by August 31. Your input will be used as part of testimony on behalf of the chapter.
Thank you for taking time out of your busy schedule to provide comments regarding these resolutions. By providing your feedback on the Board of Governors resolutions, you have helped to shape College policy that impacts the practice of internal medicine. Please visit the chapter's Web site after the Fall 2022 Board of Governors meeting for updates.
Sincerely,
Col Joshua Hawley-Molloy, MD, FACP
---
Applications Now Open to Apply for the Million Hearts® 2022 Hypertension Control Challenge
(August 2022) The Million Hearts® 2022 initiative is now accepting applications for the Hypertension Control Challenge and encourages ACP members to apply. ACP is a partner in the Million Hearts Campaign, a national initiative that aims to prevent a million heart attacks and strokes by reducing hypertension and implementing evidence-based strategies to improve cardiovascular health.
The Hypertension Control Challenge identifies and spotlights health care professionals, practices, both solo and group, and health care systems that have achieved nationally laudable hypertension control rates. Applicants that have achieved hypertension control rates of at least 80% over a 12 month period are eligible to enter for possible recognition as a Champion. To learn more about the rules and eligibility requirements to become a 2022 Million Hearts ® Hypertension Control Challenge Champion, please visit https://millionhearts.hhs.gov/partners-progress/champions/rules.html. All prospective Champions are required to complete the application form https://hypertension.millionhearts.hhs.gov/.
The submission deadline is September 7, 2022.
---
New Advocacy Resources Available to ACP Members and Chapters
(August 2022) We would like to make you aware of two new advocacy resources available to ACP members and chapters.
Understanding Advocacy and Why We Do It - A Comprehensive Toolkit for Chapters
ACP has created an advocacy best practices toolkit to support engagement in and the efficacy of chapter-level advocacy at the state and federal level. This comprehensive toolkit breaks down the different methods and mediums for advocacy engagement and highlights all the programs and resources offered by ACP to make the most of chapters' advocacy efforts. This toolkit is only accessible to ACP members.
Reproductive Health Toolkit Now Updated
ACP's toolkit for chapters to utilize in navigating issues surrounding abortion rights and related policies in their states following the overturning of Roe v. Wade has been updated. The toolkit now includes sample letters that chapters can use to advocate with state officials and information on recent federal activity.
For questions regarding these toolkits, please submit all requests through this questionnaire to ensure we can track inquiries and respond in the most timely and efficient manner."
Are you a member of the Advocates for Internal Medicine Network (AIMn)? Learn more here.
---
Congratulations New Army Chapter Fellows
MAJ Nathanial K Copeland, MD FACP
MAJ Daniel Desmond, MD FACP
COL John Song, MC USA FACP
Reginald Trevino, MD FACP
(July 2022) Congratulations to the Army Chapter's newest Fellows. Fellowship in the College is an honor. Being an FACP® is a distinction earned from colleagues who recognize your accomplishments and achievements over and above the practice of medicine. The most important considerations for ACP Fellowship are excellence and contributions made to both medicine and to the broader community in which the internist lives and practices.
---
US Army Chapter receives 2021 Chapter Excellence Gold Award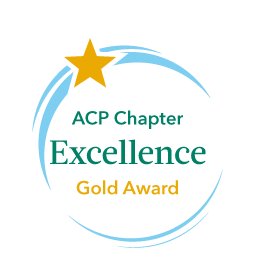 We are pleased to announce that our chapter is in receipt of the Gold Level of the 2021 Chapter Excellence Award! The award recognizes truly extraordinary chapters that surpass excellence in chapter management. We are in the company of 44 other outstanding chapters. In order to achieve the Gold Level of the Chapter Excellence Award, chapters must meet twenty-one Bronze criteria, seventeen Silver criteria and multiple Gold level activities. Criteria include such activities as having a legislative action plan or agenda, holding a volunteerism/community service activity, holding multiple stand-alone meetings, having revenue sources outside of dues and meeting registration fees, implementing a strategic plan, implementing a formal recruitment and retention plan and measuring outcomes, conducting various activities for Medical Students, Residents and Early Career Physicians. we would like to extend a special thanks to those chapter members who assisted us in all of these endeavors! For their hard work and dedication, we received this award.
---
Army Chapter Awards
William Crosby Superiority in Research Award: The Superiority in Research Award is designed to honor a member, fellow, or master of the Army Chapter of the ACP who has demonstrated excellence in the design, performance, and publication of peer reviewed research which exemplifies the characteristics displayed by COL William Crosby MC (Retired). The recipient should be recognized in both the military and civilian academic community as having made significant contributions to the scientific literature. This award recognizes research as a pivotal requirement of the Army Internist.
Excellence in Operational Medicine Award: The Excellence in Operational Medicine Award is designed to honor a member of the ACP in the ranks of CPT through COL who has demonstrated dedicated care of patients, outstanding leadership and novel innovation in an Operational Medicine environment.
Master Teacher Award: The Master Teacher Award is designed to honor a member of the ACP in the rank of Fellow or higher who has demonstrated the qualities of master mentor and teacher. The recipient should be acclaimed by their students as inspirational and the award therefore recognizes education as a pivotal requirement of the Army Internist.
Robert Moser Award: The Colonel Robert H. Moser Award is designed to honor an Army Captain or Major. The award honors an outstanding General Internist for superior clinical practice. It is named after COL(Ret) Robert H. Moser, MACP, a true legend in Army medicine.
Lisa Zacher Award for Mentorship of Women in Medicine: The COL Lisa L. Zacher Award for Mentorship of Women in Medicine is bestowed on a member of the US Army Chapter for distinguished contributions in the mentorship of women in military medicine. This award recognizes a woman physician who has furthered the careers of women medical students, residents, and staff physicians through mentoring and leadership development, shepherding the career advancement of women.

ACP Laureate Award: The Army Chapter ACP Laureate Award is designed to honor a senior physician who is a retired Army Medical Corps Officer. The award honors a Fellow or Master of the ACP with a long-term record of excellence in clinical, academic, research, and administrative roles in the Army Internal Medicine community, as well as demonstrated contributions to the Army Chapter of the ACP.
---
COL Hawley-Molloy shares 3 goals for his term as Governor
(June 2021) COL Joshua S. Hawley-Molloy took over as Governor of the U.S. Army Chapter after COL Cristin Mount completed her four-year term. COL Hawley-Molloy has established 3 core goals for his term and invites all chapter members to reach out to him with any ideas or feedback.
To develop a new post-pandemic model for our meetings (with a hybrid of both in-person and virtual offerings to ensure as many of you as possible can be involved)
To continue our efforts to make our Chapter membership and activities reflect the diversity of Army Internal Medicine (we are generalists, subspecialists, academicians, operationalists, scholars, and clinicians from multitude of backgrounds—but we are all Army Internists)
To make this chapter your Professional Home of choice
---