You are here
News & Meetings
West Virginia Chapter Wins a 25th Anniversary John Tooker Evergreen All-Star Award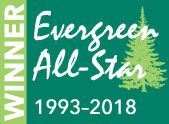 To celebrate the 25th anniversary of the John Tooker Evergreen Awards Program, the Evergreen All-Star Awards recognizes the West Virginia Chapter program, Thieves' Market. The program has contributed to the strength and breadth of ACP and its chapters, and demonstrated sustainability through successive leadership terms.
---
2017 Chapter Excellence Award Winner
We are pleased to announce that our chapter is in receipt of the 2017 Chapter Excellence Award! The award recognizes chapters which successfully meet the standards for managing a chapter. In order to achieve the Chapter Excellence Award, chapters must meet all basic criteria and seven optional criteria. Criteria include such activities as formulating an effective Governor's Council and committees, communicating frequently with membership, providing educational opportunities, recruiting and advancing members and celebrating membership through local awards. We would like to extend a special thanks to those chapter members who assisted our chapter in all of these endeavors! For their hard work and dedication, we received this award.
---
West Virginia Chapter Photo Gallery
---
2018 West Virginia Chapter Meeting
Information to Come!
---
Governor's Newsletters & Communications
---
Chapter Communications
3-16-17: Commitment to help reduce firearm-related injuries and deaths
2-12-18: Leadership Day
9-26-17: West Virginia Chapter Abstracts
7-7-17: Fall Resolutions
Resolutions document
7-7-17: Early Career Physician Outreach
9-30-16: ACP URGENT DEADLINE
Application
5-11-15: ACP Congratulations to our National Abstract Winner!