You are here
News & Meetings
News & Meetings
2020 Virtual Chapter Scientific Meeting
October 23-24, 2020
Meeting Program
Already Registered? Access the Virtual Meeting Hub
Please contact Renee Arnott with questions.
Claim Your CME Credit and MOC Points from the 2020 TN Chapter Meeting - Note: Link will not be live until after the meeting is held.
---
Tennessee Chapter Receives 2020 Chapter Excellence Award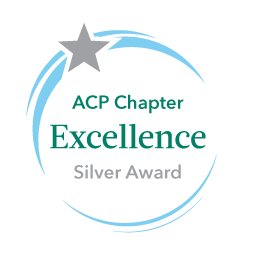 We are pleased to announce that our chapter is in receipt of the Silver Level of the 2020 Chapter Excellence Award! Only 18 chapters received the Silver Award. The award recognizes chapters that achieve excellence in chapter management. In order to achieve the Chapter Excellence Award, chapters must meet twenty-one Bronze criteria and fifteen Silver criteria. Criteria include such activities as undertaking efforts to increase advocacy efforts, collaborating with stakeholders to increase visibility of the ACP, holding competitions for members, providing chapter financial reports to members, having Medical Student and Resident/Fellow members on the Governor's Advisory council, retaining transitional and unpaid members, giving awards to chapter members. I would like to extend a special thanks to those chapter members who assisted us in all of these endeavors! For their hard work and dedication, we received this award.
---
News and Meetings
2020 Chapter Abstract Competition
Deadline for submissions has passed.
Please contact Renee Arnott with questions.
---
Board Review through MKSAP 18! Help to get questions answered and earn MOC points! See the flyer for details.
---
Electronic Death Registration System
As of July 16, 2018, all death certificates must be done online Please see the letter from the Tennessee Department of Health Office of Vital Records that details the new system.
---
---
Governor's Newsletters
Governor's Newsletters Archive
---
Check out the Tennessee Chapter's Facebook page!
Join the Tennessee Chapter's Residents Facebook group.