You are here
About the Chapter
About the Chapter
Governor
Meet Our Governor, Tracey E. Doering, MD, FACP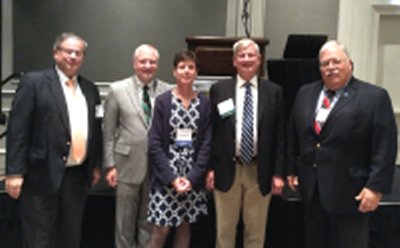 A great reunion of past and present Chapter Leadership met recently. From left to right: Fred Ralston, Jr., MD, MACP, Kenneth Olive, MD, MACP, Current Governor Tracey Doering, MD, FACP, Robert Doherty, Senior Vice President, Governmental Affairs and Public Policy, ACP DC office, and Richard Lane, MD, FACP.
Congratulations to our Chapter Centennial Legacy Award Winner, Clifton R. Cleaveland, MD, MACP.
Chapter Council of Early Career Physicians
Our Council of Early Career Physicians is dynamic and looking for ways to serve our Early Career Physicians. Contact a Council member with ideas of what they can do for you!
Chapter Awards
The Chapter is pleased to honor our Chapter award recipients for their dedication, demonstration of excellence, and support of the chapter and the science and humanity of medicine.
Congratulating New Fellows and Welcoming New Chapter Members
Chapter Bylaws
The Chapter bylaws document the rules and organization of the Tennessee Chapter.
Tennessee Chapter Recognized as an Evergreen All-Star
In 1993, the Evergreen Awards Program was started as a way to recognize outstanding chapter efforts and innovation. As a way to celebrate the 20th anniversary of the program, the Chapters Subcommittee and staff looked for a way to recognize chapters who have demonstrated a long-term engagement with the program. The criteria included that a chapter must have submitted at least 5 nominations, had at least 2 winners, and had a nominated program running for at least 3 years. The Tennessee Chapter has contributed to the growth of all chapters through their commitment to sharing successful best practices through the Evergreen program and has been recognized as an Evergreen All-Star for their achievements.
Grand Rounds in Literature

The Tennesee Reading Retreats have been conducted for over 20 years and generated original literary works or commentaries and reviews of the works of others. Take a few moments to read through the online journal of articles, reviews and original works.