Governor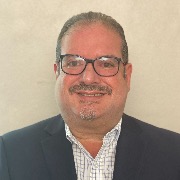 Edwin A. Alicea, MD, FACP
Dr. Alicea serves as the official representative of the College for the Puerto Rico Chapter, providing a link between members at the local level and leadership at the national level. To learn more about Dr. Alicea, read his bio.
Welcome Letter | Past Governors
---
Awards
Dr. Myriam Allende-Vigo selected for advancement to Mastership
The chapter is pleased to announce that Dr. Myriam Allende-Vigo has been awarded a Mastership in the American College of Physicians. She will be officially recognized with ACP Mastership during the 2023 Internal Medicine Meeting. Masterships are awarded because of "personal character, positions of honor, contributions towards furthering the purposes of the ACP, eminence in practice or in medical research, or other attainments in science or in the art of medicine." Dr. Allende-Vigo is in Private practice Endocrinology, solo practice in Humacao. She served as Governor for the ACP Puerto Rico Chapter from 2018-2022.
Dr. Francis Baco receives the 2022 Chapter Laureate Award
For his achievements, the Puerto Rico Chapter of the American College of Physicians selected Francis Baco, MD, FACE, FACP has been awarded the Chapter Laureate Award for 2022. A hospitalist specializing in Endrocrinology, Dr. Baco has promoted excellence in the practice of Internal Medicine through his dedication to teaching, his leadership as a program director, his involvement in professional organizations and institutions, and his role modeling as a humanistic and compassionate physician. The Laureate Award honors Fellows and Masters of the College who have demonstrated an abiding commitment to excellence in medical care, education, or research and service to their community, their Chapter, and the American College of Physicians.
Award Archives
Chapter Awardees | Puerto Rico Chapter College Awards
---